2019 Goals. A new quarter and I'm really excited to admit that I've reached another goal. Not because I don't read a lot and didn't want to to achieve success, but honestly like many people who set goals, or the dreaded "R" word, I tend to usually forget about them, sort of like my exercise plan. So instead of talking about my sorry excuse of an exercise goal, let's slap another gold star on my 2019 goal!
If you've missed the past few months, where I not only launched into my journey of 2019 goals, but also highlighted other amazing authors, please check them out by clicking on the links below.
2019 Goals – Monthly Author Feature – L.J. Shen
2019 Goals – Monthly Author Feature – Kandi Steiner
2019 Goals – Monthly Author Feature – Charity Ferrell
Now—Welcome to April!!
April introduced me to several new authors, but in the end there was something about Amy Andrews and the coming home feeling that drew me in while reading Nothing But Trouble. Her writing held humor, a slow burn, and the small town feel that held a special appeal for my appetite this spring. Nothing But Trouble is the first book in a new series of Credence, CO. I look forward to returning and reading about everyone I met along the way in her new series and I hope you enjoy Amy Andrews as much as I have.
"You can never go wrong with an Amy Andrews novel, of that I am positive. She brings to the table in a style all her own, the perfect mix of humor, romance, and realistic characters…" — Melyssa Winchester, author of Count on Me
"Charming and fun with a whole slew of quirky, engaging characters." — What's Better Than Books?
"I'm completely in love with Credence, Co and everyone who lives in this small town. Nothing But Trouble is filled with everything I adore about small town romances." Read the rest of Kay's Review: Nothing But Trouble
Nothing But Trouble, an all-new small town romance from USA Today bestselling author Amy Andrews, is available April 30th! 
________________

For five years, Cecilia Morgan's entire existence has revolved around playing personal assistant to self-centered former NFL quarterback Wade Carter. But just when she finally gives her notice, his father's health fails, and Wade whisks her back to his hometown. CC will stay for his dad–for now–even if that means ignoring how sexy her boss is starting to look in his Wranglers.
To say CC's notice is a bombshell is an insult to bombs. Wade can't imagine his life without his "left tackle." She's the only person who can tell him "no" and strangely, it's his favorite quality. He'll do anything to keep her from leaving, even if it means playing dirty and dragging her back to Credence, Colorado, with him.
But now they're living under the same roof, getting involved in small-town politics,and bickering like an old married couple. Suddenly, five years of fighting is starting to feel a whole lot like foreplay. What's a quarterback to do when he realizes he might be falling for his "left tackle"? Throw a Hail Mary she'll never see coming, of course.
Download your copy today ➪
Amazon: https://amzn.to/2U7s6uh
AppleBooks: https://apple.co/2tyXPIS
Amazon Worldwide: http://mybook.to/NothingButTrouble
Nook: http://bit.ly/2GBi2Xb
Kobo: http://bit.ly/2tzVrBy
Google Play: http://bit.ly/2TeZ1zT
Amazon Paperback: https://amzn.to/2Tc0NkU
Add to GoodReads: http://bit.ly/2Not96s
________________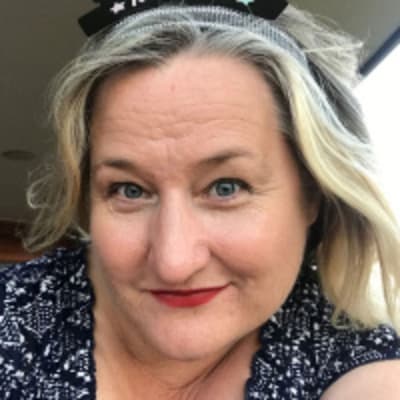 Amy is an award-winning, USA Today best-selling Aussie author who has written seventy plus contemporary romances in both the traditional and digital markets.
Her books bring all the feels from sass, quirk and laughter to emotional grit and panty-melting heat.
She loves good books and great booze although she'll take mediocre booze if there's nothing else. For many, many years she was a registered nurse which means she knows things. Anatomical things. And she's not afraid to use them!
She recently took a sea change and lives by the ocean with her husband of 29 years.
Follow Amy on all platforms:
➜ FACEBOOK PAGE: https://www.facebook.com/AmyAnsrewsAuthor
➜ INSTAGRAM: https://www.instagram.com/amyansrewsbooks/
➜ TWITTER: https://twitter.com/AmyAndrewsbooks
➜ AMAZON: https://www.amazon.com/Amy-Andrews/
➜ BOOKBUB: https://www.bookbub.com/profile/amy-andrews
➜ GOODREADS: https://www.goodreads.com/author/show/Amy-Andrews
➜ Newsletter: http://www.amyandrews.com.au/newsletter.html
Find more of Amy Andrews' books listed on Goodreads, Amazon, or BookBub