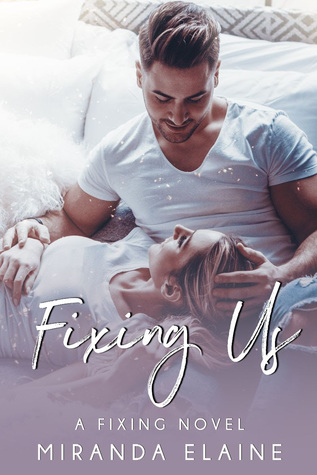 Fixing Us; A Fixing Novel (Series)
by Miranda Elaine (Author)
This review is from: May 6, 2019 By Kay Daniels
Rating:⭐️⭐️⭐️⭐️⭐️
Heat Level:🔥🔥🔥
Fixing Us was an emotional journey. I was wrecked in the very first chapter and I want to leave you with one word; prepare.
Yes, it ends with a HEA, because let's face it, unless you are reading a book that knowingly ends with a cliffhanger and then the next book better resolve itself. The reason we read romance books is to eventually get our happily ever afters. As readers, we get very upset, if we don't get that satisfied ending. So, that is not what I'm warning against. Fixing Us will wring you out over and over and then leave you emotionally wrecked for days kind of read (in a good way, but still). Prepare.
Gabriel Starr was put into the foster system at a very young age. With two very dysfunctional parents and then a foster system that shuffled him from home to home. He never learns how to love, how to be loved, or what love means. It isn't until he meets Leigh Ann Simms in high school that someone sees beyond the poor, lost boy that even he begins to allow himself to dream. But Gabe doesn't believe in himself enough to dream beyond the walls of high school so he walks away from the one person who was good in his life to allow Leigh to pursue her future, even if her future was to have him in it.
It would take over twelve years, a lot of heartache, and the reality that perhaps Gabe and Leigh should just be friends. They have a broken pattern of falling into where Leigh seeks Gabe out, he takes her back, but when she pushes him for more, he walks away. Reaching thirty and Leigh decides it time to finally move on from those shattered dreams. Time to move on from the heartache. Time to move on from the pattern she's established with the only man she's ever loved in her life. Can she do it? It's time to finally fix her heart.
How much can our heart handle?
What tests can the spirit endure?
Can you fix a relationship that's been fractured over and over?
Perhaps those answers need to come when you stop looking outward and finally fix what's inside.
Fixing Us is emotional and held so much more than I was expecting. As a hero, Gabe isn't just broken; he's been neglected, abused, unloved, the opposite of everything a child should receive and experience which scars him deeply. He doesn't feel worthy of Leigh's love, nor help and the reason is so profound it will break your heart. Gabe will tear through your emotional soul like tissue paper, so once again; prepare. (you will have a book hangover with this one)
Find more of my reviews on Amazon under Kayreader
on Goodreads under Kay Daniels Romance
At Bookbub under Kayreader
or you can follow me on Facebook at Kay Daniels Romance