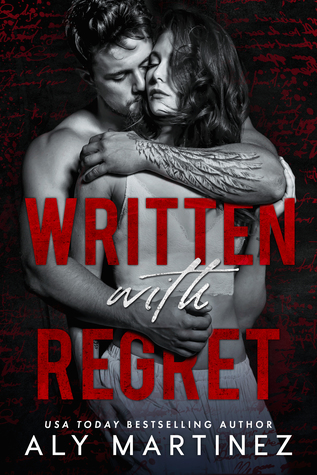 Written With Regret; Regret Duet #1 (Duet)
by Aly Martinez (Author)
This review is from: May 13, 2019 By Kay Daniels
Rating:⭐️⭐️⭐️⭐️⭐️
Heat Level:🔥🔥🔥🔥
Riveted! Completely riveted from the beginning until the last page!
BUT…
This is just book #1 of a duet so, BAM! Cliffhanger…OMG! Aly what did you do to me?
Given the books that Aly Martinez writes, I was semi-prepared for drama, a cliffhanger, and turbulence, but not to the extent that I read. Written With Regret is an amazing up and down emotional read. I am now waiting with major anticipation for Written With you when it releases next month. GAH! An entire month….but until then…
Written With Regret flows in and out of the present and the past. Both Hadley Banks and Caven Hunt have been traumatized by events in their past and that carries into what they experience together in their present.
Why am I being vague…well…because Aly is a master genius with her gripping story and I hate to give away too much of the storyline in revealing not only what happens to Hadley and Caven in their past, but also in their present.
What I will say is both characters at some given time (and sometimes a few times) fall under the antihero category. They both not only show traits of questionable characteristics, but also of redeemable ones as well.
Some may question why? Caven seems like the perfect hero, a rescuer on so many levels, where as Hadley multiple times refers to herself as Hadley the terrible. So why would I throw both of them under this same category?
Caven holds a dark secret, but aside from that, he also isn't the most forgiving guy. I neither agree with nor condone Hadley in what transpires in her life, but I can certainly sympathize with a woman in her condition. For everything Caven has gone through in his life he lacks some compassion, but with that aside, it does heighten the overall story on how exactly how he is going to react to Hadley, so his emotional temperament is easily set aside because Aly does an excellent job weeding them out through Hadley's POV. Also, I get the feeling, he has an agenda. I could be wrong, but…time will tell.
Hadley is easy to see that she is set up as an antihero early on in the story.  As the story begins she's the villain, but you'll find yourself warming up to her and quickly changing your mind. Does Hadley also have an agenda? She just might…again time will tell. I have a feeling these two characters will continue to interweave in and out of this category as we move forth into the next book.
Again…GAH…a month, but if you love a gripping story. You will love this book!!
Written With Regret, the first in an all-new emotional duet from USA Today bestselling author Aly Martinez, is coming May 23rd!
Add to GoodReads: http://bit.ly/2IOYdg5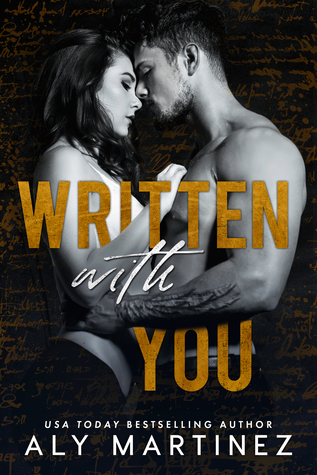 Written With You, the second part in an all-new emotional duet from USA Today bestselling author Aly Martinez, is coming June 13th!
Add to GoodReads: http://bit.ly/2DzFmBx
Find more of my reviews on Amazon under Kayreader
on Goodreads under Kay Daniels Romance
At Bookbub under Kayreader
or you can follow me on Facebook at Kay Daniels Romance