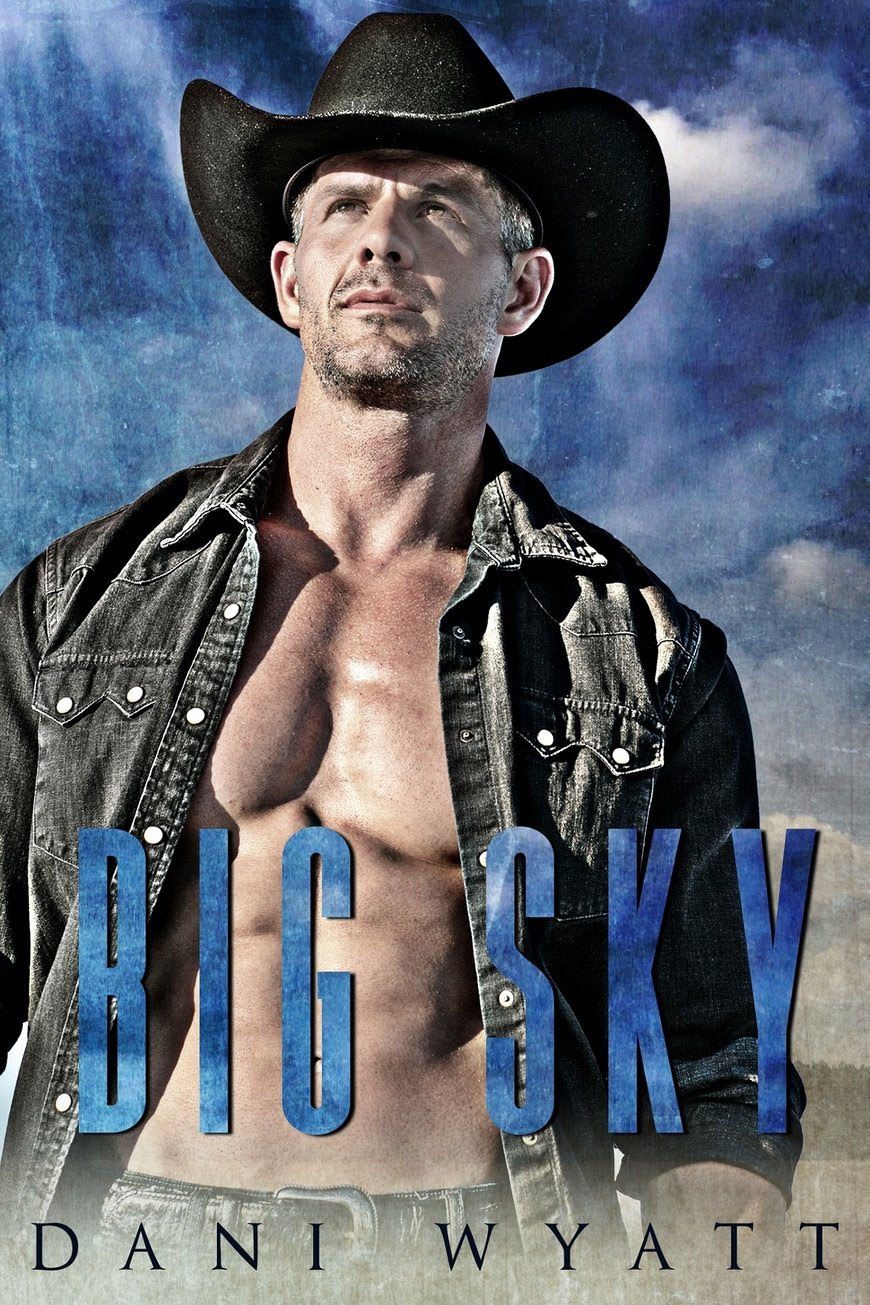 RELEASE BLITZ
Title: Big Sky
Author: Dani Wyatt
Genre: Cowboy Insta-Love Standalone Novella
Release Date: May 15, 2019
BLURB
When my feet hit the dirt at the Big Sky Dude Ranch, I have a pretty good idea what to expect.  What happens next nearly shakes me out of my brand-new cowboy boots.  See, I'm here to write a travel article, but in one instant my interest in saddles, horses, and the Montana sky evaporate.  All I see are blue eyes, chiseled cheekbones, and a black cowboy hat.
What I find out, is the quiet cowboy who owns this land is the measure of alpha.  Quiet. Controlled.  He's older but has a body carved from fresh air and decades of hard work.
I do what I can to maintain my professionalism.  After all, for two days he's barely looked my way.  And yet, he's ruined every pair of panties I brought.
One slip and everything changes. Garrett West shows me what's underneath that calm cowboy exterior.  And, let me tell you, it's big.
Except, we are from different worlds.  Different decades.  And some differences may be impossible to overcome.
Author's Note:  Saddle up for a ride that will leave you weak in the knees.  This May-December pair do their best to maintain some distance, but once they are forced to touch, the sky opens and worlds collide in the hottest sort of way.  Always safe, no cheating, and love at the speed of light.
GOODREADS: https://www.goodreads.com/book/show/45438959-big-sky
PURCHASE LINKS 
US: http://1click.bz/BigSkyAMZNUS
UK: http://1click.bz/BigSkyAMZNUK
CA: http://1click.bz/BigSkyAMZNCA
AU: http://1click.bz/BigSkyAMZNAU
Free in Kindle Unlimited
AUTHOR BIO
Dani Wyatt used to feel bad about having such dirty thoughts. Luckily, one day she decided to start writing them down. Her ultra-obsessed, alpha heros have a wicked possessive streak and an insatiable libido. Her heroines are intelligent, quirky and worry about having too much muffin top. So, if you like your insta-love over the top, super-hot, with a little more plot and always a happily ever after you're in the right place.
She's fighting middle age like a warrior and lives an average life battling gravity. When she's not writing she is probably laughing about some irony (like A-1 Steak Sauce is vegan), reading, riding her horse, or looking cross-eyed at some piece of technology sent to ruin her day
AUTHOR LINKS
Facebook Page: https://www.facebook.com/daniwyattauthor
Facebook Profile: https://www.facebook.com/daniwyatt843
Facebook Group: https://www.facebook.com/groups/105201459894715
Twitter: https://twitter.com/ddwyattauthor
Goodreads: https://www.goodreads.com/author/show/14200859.Dani_Wyatt
Amazon: https://www.amazon.com/Dani-Wyatt/e/B012VGV81U
Website: http://www.daniwyatt.com
Newsletter: http://eepurl.com/cgMjvn