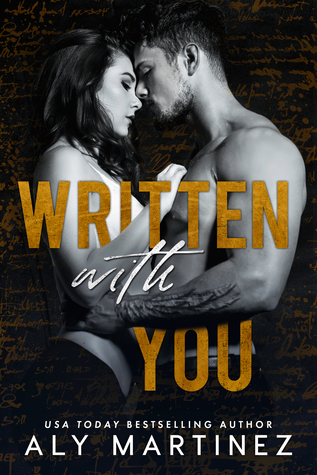 Written With You; The Regret Duet #2 (Duet)
by Aly Martinez (Author)
This review is from: June 7, 2019 By Kay Daniels
Rating:⭐️⭐️⭐️⭐️⭐️
Heat Level:🔥🔥🔥
A riveting conclusion to the Regret Duet. It was gut wrenching, held so many mic dropping moments, and the plot was so well orchestrated absolutely nothing was missed. Ultimately, I loved this duet and once I was finished, after drying my tears, I had to sit and just take it all in. For over a day now I've been wrapped in a Regret book coma and I'm still trying to pull myself out of this world. So, yes, this book not only deserves 5 stars, it really deserves more.
At the end of Written With Regret, we receive not only a huge cliffhanger, which is to be expected with a duet, but also a huge jaw dropping mic drop moment.  If you haven't read book one yet, please stop and pick it up immediately, because anything from here on out will spoil that book for you. Written With You picks up right where Written With Regret left off.
Willow, Caven, and Rosalee all have to find a new norm given the secret Willow has been keeping. (This is given away not only at the end of book 1, but also pretty early in book 2) Caven doesn't want to let Willow off the hook very easily. However, Caven is a man with his own dark secret and he feels like a hypocrite for getting so angry, plus, they were ultimately beginning to fall for one another. But like any Catfishing episode will tell you…a name and few details is still betrayal. Caven doesn't feel he would take it quite so hard, if it were just him in the picture, but he has a daughter and he would do anything to protect her.
Willow has only done things with the interest of Rosalee at heart. Yes, she's always heroized Caven, but she never thought things would progress like they had, happy about it, sure, but ultimately her life is about Rosie. When things go sideways, as broken up as she is about Caven, she will still do anything in the name of keeping Rosalee in her life. She is the only family she has left in the world.
The beautiful thing about having Rosie, in her perfect youth, she makes things so simple in accepting people, understanding forgiveness, giving and receiving love, you name it, Rosie puts a spin on it. Without knowing she's doing it she pretty much makes the adults feel two inches tall. Why is it adults always have to complicate things and children can makes things so simple? Rosalee has to be one of my all time favorite child characters. Her enthusiasm, her openness to love, her joy, and mostly the way Caven loves and takes care of her is something I adored reading. If there is nothing else you like about this book, you will love the interaction between father and daughter.
Not only do we have Willow and Caven's relationship on the rocks, this time a huge secret may undo everything and cost more than just hurt emotions. How deep do some secrets tunnel and how much is someone willing to pay the price to keep them buried?
In my last review, for Written With Regret, I mentioned how both characters were antiheros, neither willing to jump into that role, but both having characterics of becoming heros.
For example; Caven mentions multiple times how he doesn't feel like a hero and to not put him in that box. It's interesting how to someone else you can be their hero, but if you look in the mirror you don't feel that way at all. Willow also has the strength of forgiveness that Caven feels put her in his hero box. When the entire world had given up on him, she forgave him and he never forgot that. So have these two come out on the other side? Read Written With You and find out.
Make sure you pick this one up or add it to your TBR. It is one of my favorite reads this 2019!!
Written with Regret is #LIVE!
Amazon US: https://amzn.to/2JYkxDR
Amazon Worldwide: mybook.to/WRWAM
If you missed my review of Written With Regret, read it here.
Find more of my reviews on Amazon under Kayreader
on Goodreads under Kay Daniels Romance
At Bookbub under Kayreader
or you can follow me on Facebook at Kay Daniels Romance