2019 Goals. I'm a little late reporting my latest goal, but better late than never, right?!
This past month has been crazy busy. My oldest child graduated from college…where did the time go? I just dropped her off at kindergarten I am pretty sure of that?? She really cannot be ready to enter the adult world…she agrees, mostly. Like any young adult – give her space, but give her money. Yeah, I remember those days well myself. How is it I have a child this old, ugh.
Well, aside from graduation, moving children back and forth from schools to home to new apartments and trying to fit in one of the busiest months of reading and reviewing…again…I apologize that I'm just getting to my goals.
If you've missed the past few months, where I not only launched into my journey of 2019 goals, but also highlighted other amazing authors, please check them out by clicking on the links below.
2019 Goals – Monthly Author Feature – L.J. Shen
2019 Goals – Monthly Author Feature – Kandi Steiner
2019 Goals – Monthly Author Feature – Charity Ferrell
2019 Goals – Monthly Author Feature – Amy Andrews
Now—Welcome to May!!
I read and reviewed more books this past month than I have in a very long time and May also introduced me to several new authors, but it was the heartbreaking, second chance story by Miranda Elaine of Fixing Us that stood out among everything I read. Miranda broke my heart in the very first chapter and then slowly put it back together in this loving, second chance book. Gabriel Starr was a hero like none I'd ever read and the love he shared for Leigh is so spectacular, I hope you enjoy the book as much as I did and pick it up today.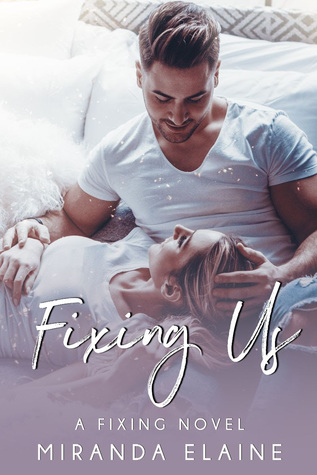 "Love this book. It's Miranda Elaine's best yet!" ~Amie Knight 
"You'll love everything about Fixing Us – the relatable, endearing characters and their poignant, tender and steamy love story." ~Mary Dube @ Frolic
"Fixing Us was an emotional journey. I was wrecked in the very first chapter and I want to leave you with one word; prepare." ~Read the rest of Kay's Review: Fixing Us
#1 New Release in Men, Women & Relationships Humor 
________________
Gabriel Starr is the love of my life, even if he breaks my heart time and time again.
Like a fool, I keep going back, so I've made a promise to myself—one final night and then I'm done.
One night of passion.
No pressure. Most importantly, no future.
One month later, a positive pregnancy test tells me different.
Our only option is to raise this baby as friends, but how can we make it work when we can't even keep our hands off each other?
We finally have the chance to be the family we never imagined we could be.
But first, we need to focus on Fixing Us.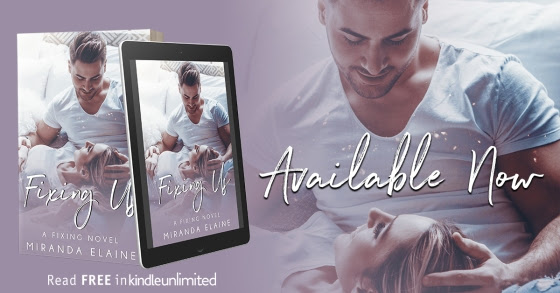 Download your copy today ➪
Amazon: https://amzn.to/2EmFGnJ
Amazon Worldwide: http://mybook.to/FixingUs
Add to GoodReads: http://bit.ly/2CvJ1Q5
________________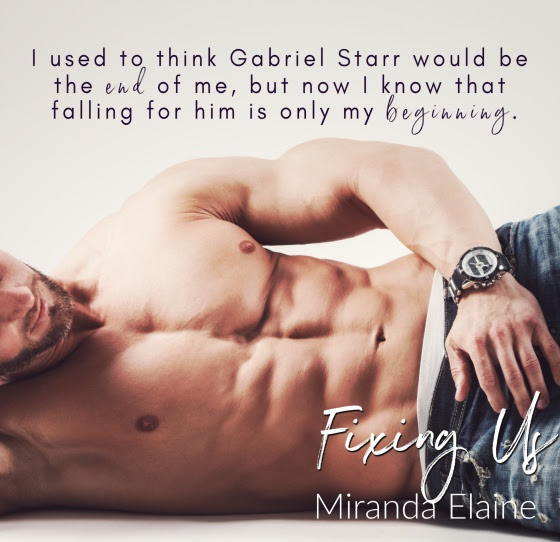 Miranda is a loving wife and barely surviving mother of three occasionally good kids. Her hobbies include lying to herself about the calories in donuts and banana pudding, as well as running out of excuses when procrastinating.
She's been an avid reader since she was a young girl. Whether she's by the pool, curled up in bed, or hiding in the closet, as long as she has a book in her hands she's happy.
Follow Miranda on all platforms:
➜ FACEBOOK PAGE: https://www.facebook.com/AuthorMirandaElaine
➜ INSTAGRAM: https://www.instagram.com/authormirandaelaine/
➜ TWITTER: https://twitter.com/Authormirandae
➜ AMAZON: https://www.amazon.com/Miranda-Elaine/
➜ BOOKBUB: https://www.bookbub.com/profile/miranda-elaine
➜ GOODREADS: https://www.goodreads.com/mirandaelaine
Find more of Miranda's books listed on Goodreads, Amazon, or BookBub