Twisted Betrayal; Rydeville High Elite #2 (Series)
by Siobhan Davis (Author)
This review is from: August 14, 2019 By Kay Daniels
Rating:⭐️⭐️⭐️⭐️⭐️
Heat Level:🔥🔥🔥🔥🔥
Stunned, shocked, and twisted into knots over this second installment of Rydeville High Elite, Twisted Betrayal. Siobhan's writing just gets better and better and this series has proven just how intricate and woven her plot twists go.
I was almost speechless in wondering how I was going to write up this review without giving too much away, because right from the beginning this book is all in, full out go time. This is not a book to pick up without reading Cruel Intentions first, namely you will WANT to read it because it is just a good book, but secondly Twisted Betrayal is a riding the middle of the road at a hundred miles per hour before dropping from the highest point off a coaster type of book. Everything is culminating and reaching a tipping point so trust me, you will tear through this book because there are no stalling points to stop and take a break.
The elite have upped a notch, and I'm not talking about the students Abby attended Rydeville with. No, you will get to know evil in a new form and this evil and wickedness is at the heart of the plot. You will want justice for Abby over and over again, and at the end of the day, you know it has to be won. The even bigger question comes into play, who can she trust when everyone in her life has betrayed her. She really only has herself to rely on even when those closest to her say they would die protecting her, what is protection when there is no trust. This book will leave you with answers and so many more questions. It is the perfect second addition to this twisted series.
On August 20th, turn off all communication, lock your door and keep all snacks close by when you sit down to read this one cover to cover. You're gonna love this ride.
In the power struggle between two elite groups, one feisty girl will bring them to their knees…
Start the series today with Cruel Intentions!
Amazon: https://amzn.to/2WHTYti
Amazon Worldwide: http://mybook.to/CruelIntentions
Add to GoodReads: https://smarturl.it/CruelIntentionsGR
Pre-order Twisted Betrayal releasing on August 20th!
Amazon: https://amzn.to/2llbYIY
Amazon Worldwide: http://mybook.to/TwistedBetraySD
Add to GoodReads: http://bit.ly/2GccsZB
Join the Rydeville High Elite Spoiler Group: http://bit.ly/2WKtbwp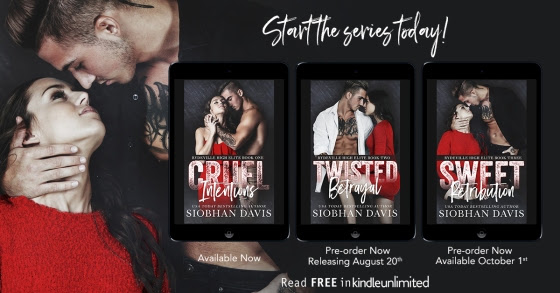 Pre-order your copy of Sweet Retribution today: https://smarturl.it/SweetRetribution    Sweet Retribution will release this fall.
Find more of my reviews on Amazon under Kayreader
on Goodreads under Kay Daniels Romance
At Bookbub under Kayreader
or you can follow me on Facebook at Kay Daniels Romance