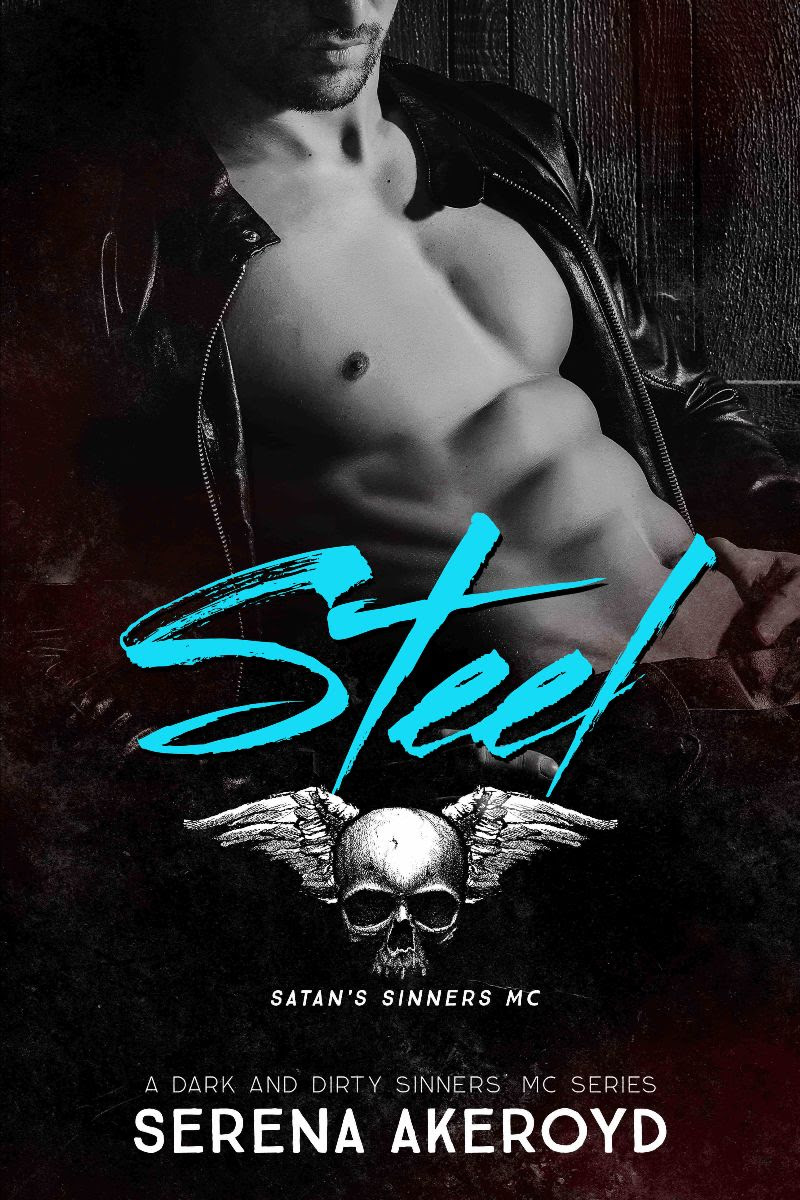 RELEASE BLITZ
Title: Steel
Series: A Dark and Dirty Sinners' MC #4
Author: Serena Akeroyd
Genre: Dark & Dirty MC Romance
Release Date: August 18, 2020
BLURB
Steel's a prick.
He stole my heart when I was a kid, and ever since, he's refused to let go. He's clung to me, even as he pushed me away, and I'm tired of it.
I'm over it, and over him. Of the games we play together, the endless waltz of him hurting me to shove distance between us.
So I'm out of there.
My future is medicine. If I turn into a crazy cat lady, then so be it. I'm good with that. At least Mrs. Biggins can't hurt my heart when she poops in my shoes…
Of course, Mrs. Biggins doesn't kiss like Steel either.
One kiss. 
That's all we've had together, and it haunts me. My nights, my days, my waking moments, my sleeping ones. A single kiss. Where everything, the stars included, aligned and just felt right. 
But Steel isn't mine to have… by his choice. And I've dealt with that. For years. So when he suddenly changes his mind? What am I supposed to do? Just fall at his feet?
I don't think so. 
Find out if Steel and Stone can ever be together in STEEL, book four of A Dark & Dirty Sinners' MC series.
GOODREADS LINK: https://www.goodreads.com/book/show/54245624-steel
PURCHASE LINKS
US: https://amzn.to/3iEHZon
UK: https://amzn.to/3ivCjx7
CA: https://amzn.to/3e4w9As
AU: https://amzn.to/2DdhwOx
Free in Kindle Unlimited
EXCERPT
When I woke up, it was like every part of me flashed into 'on' mode.
I'd been shot before, had been put in comas before too, so I knew what it felt like to come awake after that.
This time, however, it was different.
Why?
My brain, some part of it, was aware that I'd been shot while being a coward as I turned tail and ran home, rather than go to my woman who'd been kidnapped by a whacked serial killer.
Shame hit me, and it was followed by the thought that, for some reason, I was waking up again.
Was it weird to know that you'd almost died?
I knew I had.
When I'd felt the bullet's trajectory, as it tore into my body like a stray tennis ball on a court, I'd known that death was likely.
Sure, I'd been pissed about it, but you went into this life knowing that it would probably end early.
What I couldn't forget, though, was the last thought that had brushed my consciousness before I'd snuffed it.
Unto death, I'd vowed to protect Stone from myself, and I'd fulfilled that vow.
I'd died.
That meant I could have her now, didn't it?
ALSO AVAILABLE
#1 Nyx
US: https://amzn.to/3fvRaW1
UK: https://amzn.to/30J6lHd
CA: https://amzn.to/3e6nJt5
AU: https://amzn.to/2Y12umZ
Free in Kindle Unlimited
#2 Link
US: https://amzn.to/2zzFSAB
UK: https://amzn.to/3d5RSra
CA: https://amzn.to/37v3Nhj
AU: https://amzn.to/3eb7xHm
Free in Kindle Unlimited
#3 Sin
US: https://amzn.to/2Y11JdD
UK: https://amzn.to/2zy2H7J
CA: https://amzn.to/3htwMXe
AU: https://amzn.to/2AB1GfC
Free in Kindle Unlimited
AUTHOR BIO
Born in England, Serena Akeroyd is a true romance bookaholic. As a reader she will not touch a book unless she knows it has a happy ending, which makes her write the endings that your heart craves!  This addiction, made her want to craft stories to suit her voracious need for steamy, sexy romance. She loves to write stories with plots twists, alpha sexy men, dark humor, and hot AF love scenes. Some are darker than others as she has a taste for the weird and the unexpected.
She writes MF, Menage and Reverse Harem (also known as Why Choose romance) in both con-temporary and paranormal. But she has recently decided to concentrate more on contemporary MF stories, mainly with A Dark and Dirty Sinners' MC Series and The Five Points Collection.
AUTHOR LINKS
Amazon: https://www.amazon.com/Serena-Akeroyd/e/B00EC76REA
Facebook: https://www.facebook.com/SerenaAkeroyd
Facebook Group: https://www.facebook.com/groups/SerenaAkeroydsDivas
Instagram: https://www.instagram.com/serena_akeroyd
Bookbub: https://www.bookbub.com/authors/serena-akeroyd
Twitter: https://twitter.com/serenaakeroyd
Newsletter: http://www.serenaakeroyd.com/newsletter.html
Goodreads: https://www.goodreads.com/author/show/7205755.Serena_Akeroyd
GIVEAWAY
There is a giveaway for a $20 Amazon gift card + signed paperback set of Nyx & Link (2 winners, open internationally)