Condemned to Love 
(A standalone)
Publication Date: January 31, 2021
Genre: Dark/ Mafia/ Forbidden Romance
Author: Siobhan Davis

Review/Synopsis:
Review:
Absolutely stunning! Full of emotions that had me reeling and my heart pounding through the entire story.
This new world that Siobhan created is exciting and on a totally different level than her past works. It's gruesome and thrilling all at the same time while her characters are falling in love under the most dire of circumstances.
The big question – can love truly exist in a dark brutal world?
Bennett Mazzone is a practical man who currently runs the New York Mafia. In the world he lives in men don't necessarily respect women, but see them as either leverage to use against him or eye candy to drape off of his arm. Women are of no use beyond those means and it's the main reason why he knows love is not in his future and the very reason he doesn't pursue Sierra Lawson even when destiny seems to throw her in his path at the most unlikely of times.
Sierra Lawson has had a crush on Ben for years and when he rescues her from a dangerous situation she assumes it's fate, but when he tosses her aside the very next morning like yesterday's garbage she realizes fate is fickle. Perhaps her crush was just a one night stand and now that she's had a chance to have him she can finally move on, but unfortunately fate has a dark sense of humor.
Condemned to Love had me feeling every single emotion.  There were points where I wanted to look away (silly I know because I was reading, but the movie playing in my mind as I was engrossed in the story was so detailed I seriously wanted to look away). There were moments I was heartbroken, times I was laughing and moments I was crying and everything else in between.
This is one of the few mafia books that by the end I understood the inner workings and where people stood and what their jobs was within the mafia organization. Honestly, that's a rarity for me. Is it important to comprehend the organization from the top down to get engrossed in the story? Not really because that information is truly secondary to the meat and heart of the story, but I did appreciate the through knowledge and it made me love the whole book that much more.
Overall, fall in love with a new world and new characters that will touch you and make you grip your chair along the way.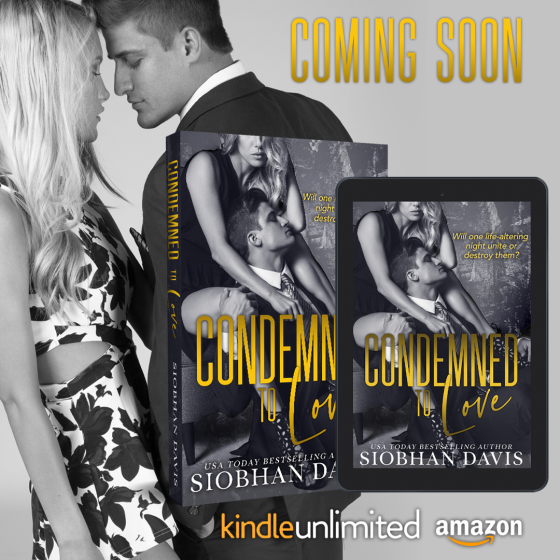 Synopsis:
Her teen crush is now a ruthless killer and powerful mafia heir.
Will one life-altering night unite or destroy them?
Bennett Mazzone grew up ignorant of the truth: he is the illegitimate son of the most powerful mafia boss in New York. Until it suited his father to drag him into a world where power, wealth, violence, and cruelty are the only currency.
Celebrating her twenty-first birthday in Sin City should be fun for Sierra Lawson, but events take a deadly turn when she ends up in a private club, surrounded by dangerous men who always get what they want.
And they want her.
Ben can't believe his ex's little sister is all grown up, stunningly beautiful, and close to being devoured by some of the most ruthless men he has ever known. The Vegas trip is about strengthening ties, but he won't allow his associates to ruin her perfection. Although it comes at a high price, saving Sierra is his only choice.
The memory of Ben's hands on her body is seared into Sierra's flesh for eternity. She doesn't regret that night. Not even when she discovers the guy she was crushing on as a teenager is a cold, calculating killer with dark impulses and lethal enemies who want him dead.
Understanding the risks, she walks away from the only man she will ever love, stowing her secrets securely in her heart. Until the truth becomes leverage and Sierra is drawn into a bloody war—a pawn in a vicious game she doesn't want to play.
As the web of deceit is finally revealed, Ben will stop at nothing to protect Sierra. Even if loving her makes him weak. In a world where women serve a sole purpose, and alliances mean the difference between life and death, can he fight for love and win?
A STAND-ALONE DARK MAFIA ROMANCE.
Add CONDEMNED TO LOVE to Goodreads: http://bit.ly/34QIs1B
Vote for CONDEMNED TO LOVE on Goodreads: http://bit.ly/37UxnhZ
Be notified FIRST when Condemned to Love is live: http://eepurl.com/dl4l5v
Find more of my reviews on Amazon under Kayreader
on Goodreads under Kay Daniels Romance
At Bookbub under Kayreader
or you can follow me on Facebook at Kay Daniels Romance