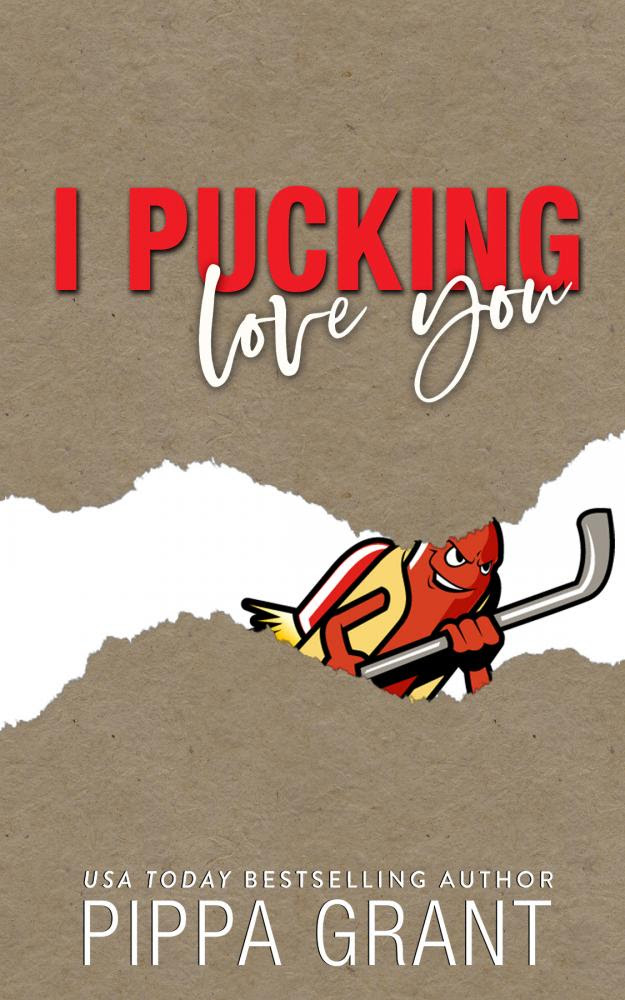 I Pucking Love You; The Cooper Valley Thrusters #5
(A standalone within a series)
Publication Date: April 8, 2021
Genre/Tropes: Sports/Romantic Comedy
Author: Pippa Grant
Review Rating: 5 Gold Stars
Review/Synopsis:
Review:
I pucking loved this book!! I pucking laughed, I pucking sighed, I pucking fell in love with all the characters. It's easy to say I pucking loved every little thing contained between the pages of I Pucking Love You.
Laughing out loud is pretty much a given when I'm reading a Pippa Grant book. I laughed a ton reading I Pucking Love You from beginning to end, along with some serious swooning while Muffy and Tyler fell in love. This couple both tickled my funny bone and melted my heart from start to finish and I have to say they rank pretty high as one of my all time favorite couples that Pippa has written.
Tyler Jaeger is smart, sweet, sensitive all while being a tough as nails hockey player. However, he also has a little problem that he believes only Muffy can help solve, especially when he traces his issue back to her. He just doesn't know what he's signing up for when he agrees to help her out and that it will involve facing his greatest fear…P.S. Tyler is absolutely the BEST!!
Muffy Periwinkle needs a fake date, not any kind of fake date, but one for a funeral. Who put the fun in funeral…no one. No one ever put the fun in those, but with Tyler by her side she just might survive it and she also may end up enjoying it more than she would have thought, especially with a hunky hockey player by her side. P.S.S. Muffy is a disaster and I love her mess to death!!
This couple is quirky and so darn adorable, both apart and together, it's seriously hard not to fall in love with both of them. Everyone around them will make great stories going forth as this world just keeps getting better. I Pucking Love You is a joy to read, with ton's of LOL moments, another Pippa hit!

Synopsis:
A hockey/fake date/not-quite-a-virgin very wrong romantic comedy
You know those stories where an adorably misunderstood clumsy girl needs a fake date to a wedding so she asks her brother's best friend and they accidentally fall in love?
I wish that was the kind of life I lead, but it's not.
I don't need a date to a wedding. I need a date to a funeral.
Clumsy sometimes fits, but then, that's true for all of us, right? But adorable? No. Misunderstood? Nope again. I'm just your average girl, standing in front of a funeral invitation, asking it to be a winning lottery ticket instead.
And I don't have a brother, or a best friend with a brother available, which means I'm stuck with Tyler Jaeger.
Sure, he's a professional hockey player who also knows advanced calculus, but let's say we're not compatible and leave it at that. I should know. I am a matchmaker.
Not a very good one, but that's beside the point.
I know a mismatch when I see one.
Still, Tyler's what I've got, and I am not going to this funeral solo, so he's what I'll take.
After all—what could go wrong at a funeral?
I Pucking Love You is a hilariously wrong romantic comedy about the world's worst matchmaker, a hockey player with a problem he doesn't want to talk about, and an awkward date-of-convenience that everyone would prefer to forget. It comes complete with a cat working his way through his nine lives, all the sexy times, fish and chips, and a swoony happily-ever-after.
Find more of my reviews on Amazon under Kayreader
on Goodreads under Kay Daniels Romance
At Bookbub under Kayreader
or you can follow me on Facebook at Kay Daniels Romance