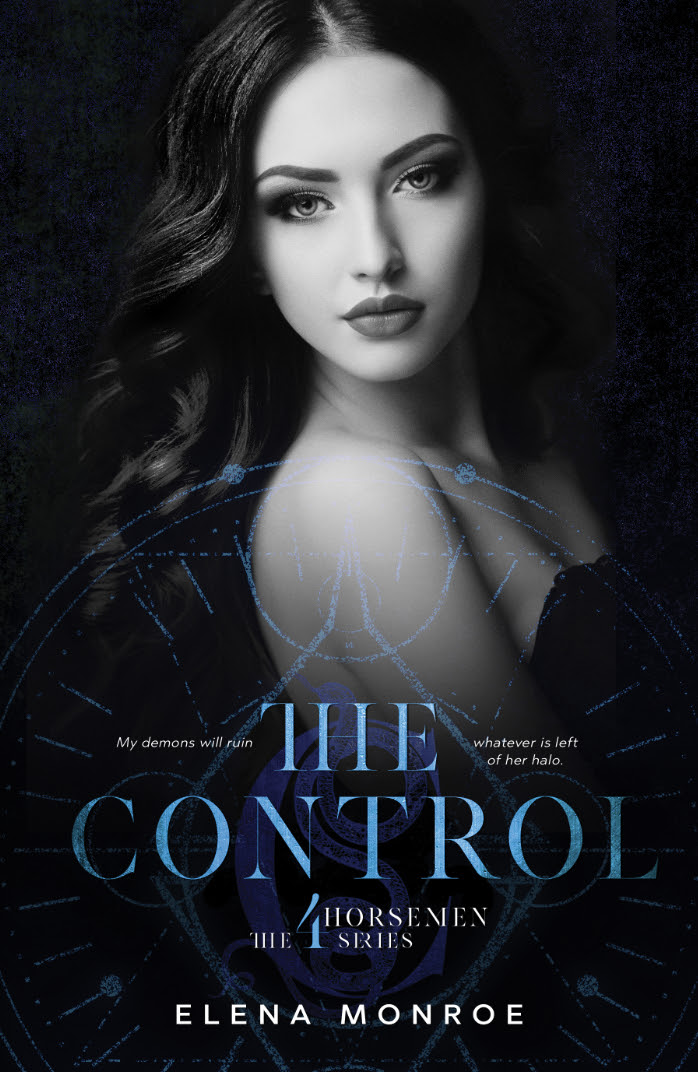 COVER REVEAL
Title: The Control
Series: The 4Horsemen #4
Author: Elena Monroe
Genre: Dark Forbidden Love Romance
Cover Design: Maria, Steamy Reads
Release Date: May 4, 2021
BLURB

My demons will ruin whatever is left of her halo.

BOWEN
I was living on borrowed everything: time, feelings, motives, even these stale breaths.
I was expired in every way.
No saving me.
He should have lived instead.
He deserved to squeeze every drop out of life and rub it in my face the way he always did.
I was stuck here as half of a person and Eve expected me to be whole enough to fix her.
We were too shattered to ever be put back together again.
I was her demon.

EVE
I was wasting every second of every day trying to make time move faster.
I was ready to throw away this life as the Princess of Denmark and go back home where Bowen would be waiting for me. There was no stopping me.
I had been promised to Bowen since our births.
I was determined to save myself for him and only him – my life line.
I may be bruised and broken but that only dirtied up my angel wings.
Nothing he couldn't handle.
I would always be his angel.


GOODREADS LINK:https://www.goodreads.com/book/show/53469515-the-control


PRE-ORDER LINKS – $2.99 for a limited time!

US: https://amzn.to/3sM4bkv
UK: https://amzn.to/3ni7bUG
CA: https://amzn.to/3dHpH5s
AU: https://amzn.to/3dJiK3W


EXCERPT

I should have given him the truth. Anything but the silence lurking inside my mouth making me mute.
Just as I pulled the band away from his body his grip crushed my small hands so hard I felt myself wince. "We aren't doing that here… I don't need your pity," his words might as well have been venom.
It was well-deserved, my body screamed: use me to bury the pain and my eyes were glazed over in sympathy.
"Bowen…" I was trying to slice through the immediate anger cocooning him when his grip didn't let up, holding my hands still too tightly.
He looked down on me like I personally insulted him in less redeemable ways. "It doesn't matter how damaged you are when you look at me like that. It would have been easier to just sit pretty and be the wife I don't want. No demons except me. Now there is nothing holding me back from making sure that fake halo is replaced with horns."
Standing up right instead of looking down at me like a silly girl who couldn't handle his demons, his fists clenched making the wraps get even more taunt around his hands.
My mouth was still gaping open but no syllables or sounds came out. Not one word while I watched him square up to the bag hanging in its place. "You always wanted to match."
My eyes stung with tears and I felt myself suck in my bottom lip like it was the key to holding back tears.
Hitting a small remote in his pocket music flooded his home gym, too loud to think or talk anymore.
Bowen's fist drove into the bag over and over making me flinch every time. I pushed him to be someone to me and didn't take into account how askewed how my expectations were.
My expectations were soul crushing.
My expectations were selfish.
My expectations disregarded trauma altogether.
I mumbled a quick sorry around my trembling bottom lip hoping that would suffice.
Few steps forward and ten back seemed to be the dance with the devil. He promised to fuck my halo into horns and now I felt overwhelmed by the need to be just as broken as him.


AVAILABLE NOW

#1 The Initiation

US: https://amzn.to/30MjApA
UK: https://amzn.to/36N8Tab
CA: https://amzn.to/34Buwrh
AU: https://amzn.to/2SEwdid
Free in Kindle Unlimited

#2 The Test

US: https://amzn.to/3oEWOKj
UK: https://amzn.to/2MWCUfZ
CA: https://amzn.to/2K9MqLI
AU: https://amzn.to/3nxM4vT

Free in Kindle Unlimited

#3 The Sacrifice

US: https://amzn.to/3tHllkj
UK: https://amzn.to/3n8w7xG
CA: https://amzn.to/3dBxZfk
AU: https://amzn.to/3syVkT6
Free in Kindle Unlimited


AUTHOR BIO

Elena Monroe grew up in Florida scribbling down stories from a very young age. These stories were really just wavy lines filling the paper, but she knew each word, each emotion, each character's name, and there was no tricking her into forgetting what each line signified. Just like her unconventional way of writing as a toddler Elena is setting her own rules and just telling stories.
Much like her debut novel, The Best Years, life certainly imitated art. Transplanting from the South to the East Coast, Elena currently lives in Connecticut with husband, reformed bad boy.
Find her on her social media through Twitter at @elenamonroe, Instagram at @elenamonroewrites, Facebook at @elenamonroewrites, and more


AUTHOR LINKS

Instagram: https://www.instagram.com/elenamonroewrites
Facebook: https://www.facebook.com/elenamonroewrites
Facebook Group: https://www.facebook.com/groups/2307075255991016
Amazon: https://www.amazon.com/Elena-Monroe/e/B07Q41NHSK
Goodreads: https://www.goodreads.com/author/show/19007689.Elena_Monroe
Newsletter: https://mailchi.mp/9f9e97ec87f3/elenamonroewrites
Merchandise: https://mailchi.mp/44987f1e4f95/shopelenamonroe