The Fall of A God; The Boys of Clermont Bay #2
(#2 of a Duet)
Publication Date: June 10, 2021
Genre/Tropes: New Adult/Book Duet/Second Chance/High School/Enemies to Lovers
Author: Holly Renee
Review Rating: 5 Gold Stars
Review/Synopsis:
Review:
All consuming, burning love, this duet has the best couple to fall in love with and even better, let totally consume you.
I love a book where the nefarious bad boy has completely and utterly messed up and now he has to grovel, beg, and plead to win back his lady love. Basically we get to see that methoprically soft underbelly (since we all know the hot, bad boy is totally ripped and would never be…well, soft) that he only shows to one person. We get to see those cracks and weaknesses that make the god-like man human and somehow it always makes the already hot guy, hotter. Beck is totally and completely in this category.
Beck Clermont is the heir to the Clermont kingdom (not a real kingdom, but an heir to his father's mass fortune none-the-less) and Beck has always gotten everything he wanted. However, when he damaged his relationship with Josie Vos while seeking revenge against her stepbrother, let's just say that he is now at a complete loss of what to do next. While he may be a similar kind of monster to Josie's stepbrother, he still isn't on the same level as him, but he also realizes that it doesn't excuse him of his sins against Josie, nor does it give him any idea of where to begin on winning her back.
Josie Vos never hated her last name more. She knew it was the cause of Beck's revenge, which in turn is the cause of her current anger, leading to the reason she is living in Clermont Bay and living with her monster of a father. Everything leads back to her last name and she doesn't know how to escape it. Loaded down with anger and remorse for even liking Beck she doesn't lay around and mope about it, she isn't anybody's punching bag or sad sack story. Josie wants to watch Beck and all of his minion's fall. Watch out Clermont Bay…Josie may not like her last name, but she's a Vos when it comes to standing up for herself.
Josie is fierce in this second installment. She doesn't let anyone walk all over her, which I love about this second chance – redemption story. If you are going to be with a bad boy you need a backbone and Josie's is made of steel.
All of the secondary characters are phenomenal and perfectly placed in the timeline. I can see so many additions to this world and I'm looking forward to where Holly will take each character on their own ride.
Beck and Josie were completely addicting to read from the very first page and while I'm sad to see their story ending, I have a feeling they will still pop up as their friends find their own paths to a HEA ,so I'm not saying goodbye to them yet.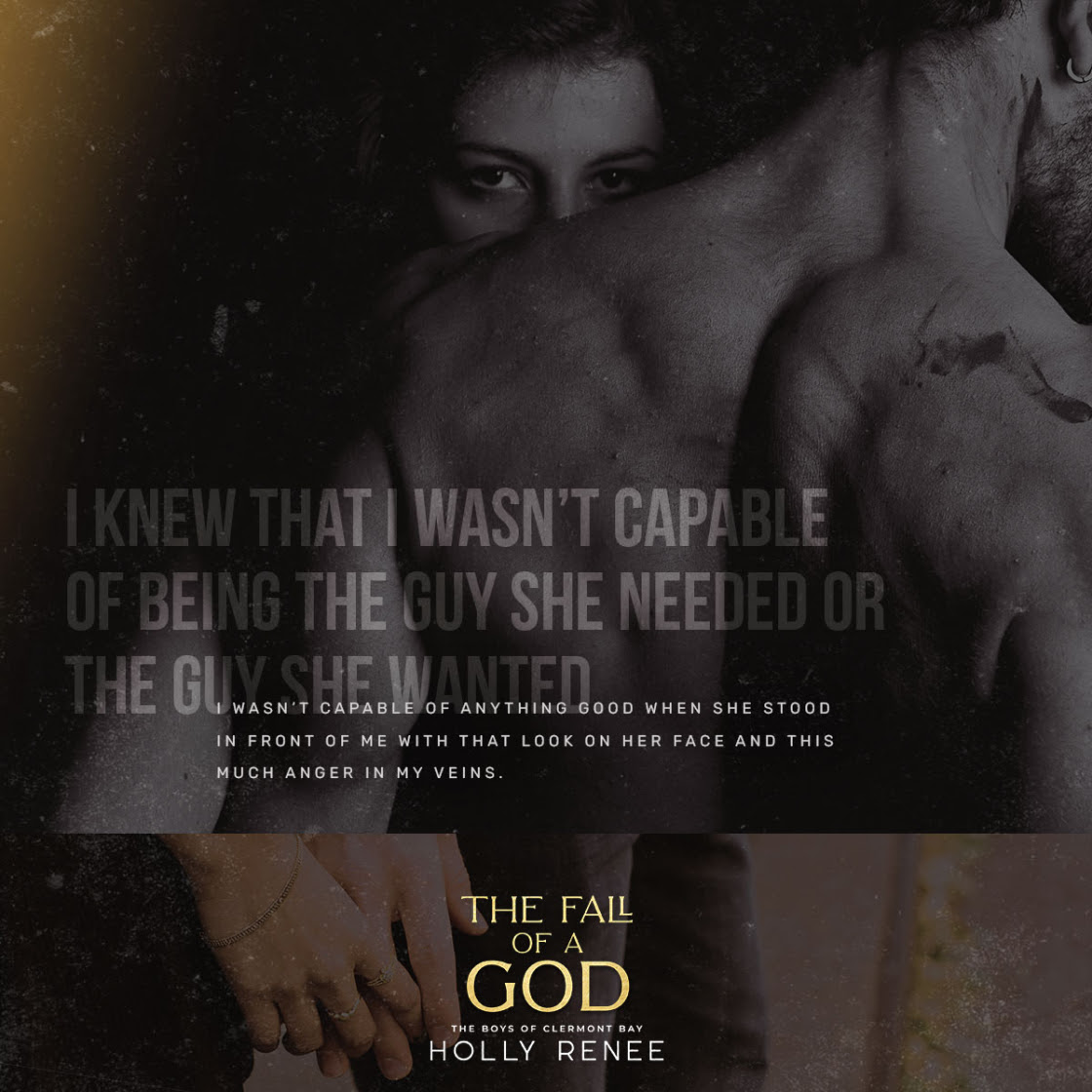 Synopsis:
Innocent. Blameless. Pure. Heartbroken. Josie Vos belonged to the one family I hated more than anything.
And I had forced her to despise me just as much.
It didn't matter that I had lost track of my plan and fallen for my enemy.
Irrevocably hurt and enraged by my deceit, she had no intentions of doing anything but watching me lose my throne.
The secrets of our families can never be forgotten.
I knew that from the beginning, but I refuse to allow the sins of our families to determine our future.
I should have left her alone and let her hate me.
I didn't.
I was going to fight for her, even if she now held all the power.
Find more of my reviews on Amazon under Kayreader
on Goodreads under Kay Daniels Romance
At Bookbub under Kayreader
or you can follow me on Facebook at Kay Daniels Romance