Hunter; Ryder Ranch #1
(A standalone within a series)
Publication Date: June 10, 2021
Genre/Tropes: Cowboy/Small town/Contemporary Romance
Author: Anna Brooks
Review Rating: 5 Gold Stars
Review/Synopsis:
Review:
I only recently discovered Anna Brooks and I'm already a huge fan! Within the first chapter I was giggling over sassy Summer and swooning over all the swagger Hunter was throwing out. I loved the entire story and couldn't put it down. This was a big yes…yes….yes!!!
Summer may have landed on Hunter's property by accident, but it's truly the first time she's felt at home in her entire life. It's hard not to feel warm and accepted in the Ryder family with the small town welcome, but Hunter makes her stay even more inviting.
Hunter has never felt more at ease with any woman before, that is until Summer has an accident with a cow on his property. Offering to let her stay was the easiest choice he's ever made in his entire life, but getting her to stay may be the hardest thing he's ever accomplished.
These two fit together seamlessly. Their chemistry is electric and fitting in with the family is flawless. But, what is the big secret that Summer is keeping that could destroy everything?
Hunter is the first in a new series and I'm totally onboard for the rest of the Ryder cowboy brothers to ride to the rescue of their HEA's. I adore the small town atmosphere, it reminds me so much of where I currently live; the people, the hospitality, yes, everyone is all up in your business, but it's also nice because people do care, but I do wish there were hunky cowboys riding to the rescue, thank goodness for books.
I love, love, love this new series and can not wait to return.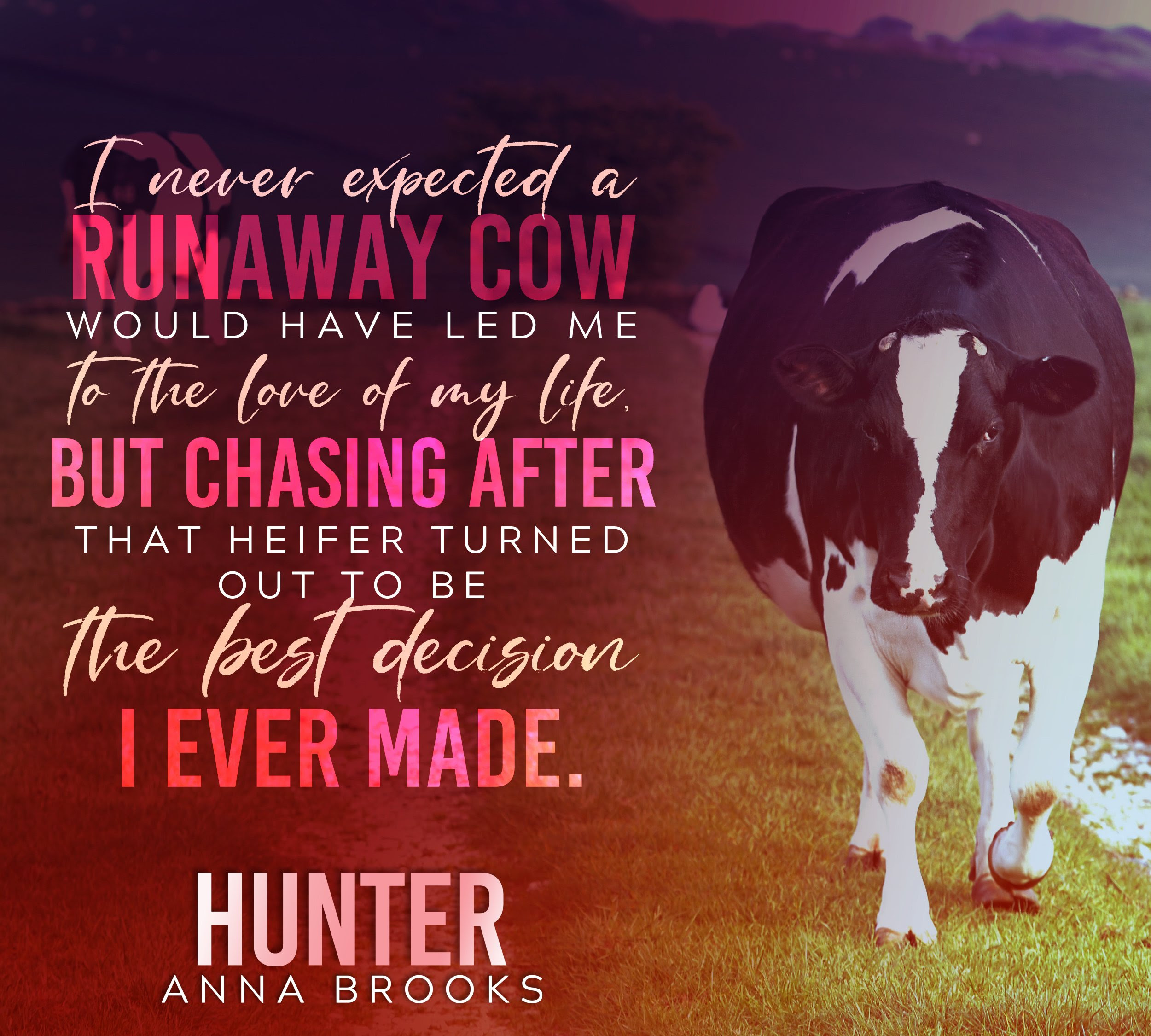 Synopsis:
I never expected a runaway cow would have led me to the love of my life, but chasing after that heifer turned out to be the best decision I ever made.
Summer Paige was lost, alone, and a mess… just like her nearly totaled car. After a glass of whiskey and a promise to keep her safe, I convinced her to stay while she got back on her feet.
It wasn't long before the innocent beauty turned my life upside down, and I realized she was everything I didn't know I wanted.
Life was perfect. Until the day I woke up and found her gone.
Her letter was supposed to explain why she left, but it did the opposite and made me want her even more. I had to prove that her past didn't matter to me because all I wanted was her future. And I intended to do just that… as soon as I found her.
HUNTER by Anna Brooks is coming June 10!
#PreOrderHere
Amazon: https://amzn.to/3rKIQY8
Apple: https://apple.co/3duCSWc
Kobo: https://bit.ly/3cOH1oI
Nook: https://bit.ly/2PzXYKS
Google Play: https://bit.ly/2PzE4j6
Find more of my reviews on Amazon under Kayreader
on Goodreads under Kay Daniels Romance
At Bookbub under Kayreader
or you can follow me on Facebook at Kay Daniels Romance