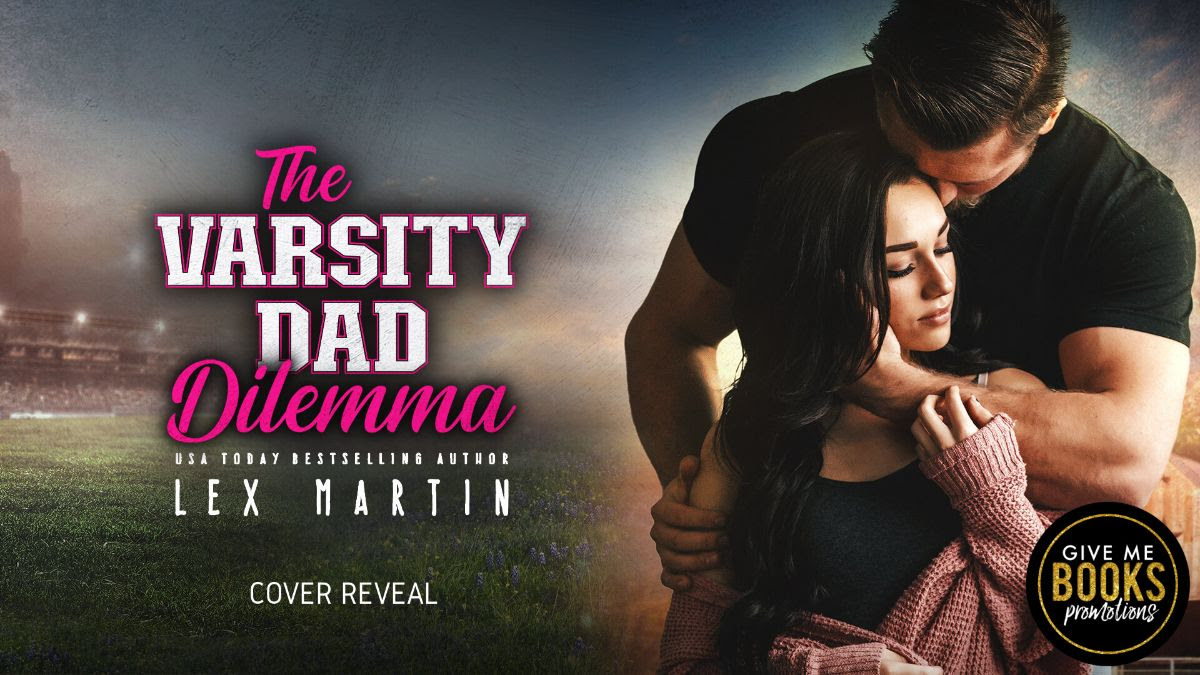 COVER REVEAL
Title: The Varsity Dad Dilemma
Author: Lex Martin
Genre: Contemporary Romance
Cover Design: Najla Qamber Designs
Photo: Perriwinkle Photography
Release Date: July 20, 2021
BLURB

★ A sexy, small town sports romance from USA Today bestselling author Lex Martin! ★

What's worse than having Rider Kingston, the star quarterback, give you the big brushoff because he doesn't want to get serious? You'd probably think living across the street from him where you get a first-hand view of his hookups, right?
That's what I thought. Until someone drops off a baby with a note pinned to her blanket that says one of those jocks—either Rider or one of his roommates—is the father. The problem? Baby mama doesn't mention which of these numbskulls is the sperm donor.
I wouldn't care about their paternity problems—not the slightest bit—except my brother lives there too. Which means that adorable squawking bundle might be my niece, and there's no way I'm leaving her unattended with those bumbling football players.
They need my help, even if they don't know it yet. Once we solve this dilemma and figure out who's the daddy, I'm out.
I'll just ignore Rider and those soul-searing looks he gives me every time I reach for the baby. He broke my heart three years ago. He doesn't get a second chance.


GOODREADS LINK: https://www.goodreads.com/book/show/55965670-the-varsity-dad-dilemma


PRE-ORDER LINKS – $2.99 for a limited time!

US: https://amzn.to/3hYeaRJ
UK: https://amzn.to/3ur9x5B
CA: https://amzn.to/3yJEOUs
AU: https://amzn.to/3bXISqu
B&N: https://bit.ly/3bVetcc
Kobo: https://bit.ly/3fJRuCa
Google Play: https://bit.ly/3fSdpae
Apple Books: Coming soon!
EXCERPT

As I walk Sienna to her car, she squeals. "Holy crap, is that Rider Kingston?"
Without my permission, my gaze slides across the street to the oversized man-child, who has the gall to be moving furniture shirtless while flexing his stupid abs. Judging by the other sweaty minions pouring out of the two story, Rider's getting new roommates too.
My eye twitches again, and my focus snaps back to Sienna. "I thought you said you weren't a fan of football."
"Oh, I'm not. I can't sit through an entire game. But I am a fan of football players." Her gaze turns ravenous as she scans my neighbor's front lawn. Or, likely, the glistening eight-pack Rider's put on display. "All that testosterone. Those bulging muscles. That deep, masculine grunting. Oh yeah. Get me one of those!"
She cackles, and Rider hears it.
Of course he does.
Shockingly, he deigns to speak to me.
"Hey, Gabby," he shouts. "How was your summer?"
I'm not sure when he decided to stop ignoring me, but that's better than pretending we're friends, which we'll never be.
I close my eyes because I don't need any reminders of his masculine beauty. And I definitely don't need to see that sexy smirk, the one more powerful than his cannon that took the team to the playoffs last year.
No, I'm not interested in the star quarterback. Not anymore.
Turning on my heel, I wave my middle finger and march back to my house.
Laughter is all I hear as I slam the front door shut behind me.


AUTHOR BIO

Lex Martin is the USA Today bestselling author of the Texas Nights series (Reckless/Shameless) and the Dearest series. She writes contemporary romances, the sexy kind with lotsa angst, a whole lotta kissing, and the hot happily ever afters. A former high school English teacher and freelance journalist, she's lived all over the country but currently resides in her hometown of San Antonio with her husband and twin daughters.


AUTHOR LINKS

Newsletter: http://bit.ly/2DrPcUi
Website: http://www.lexmartinwrites.com
Facebook: https://www.facebook.com/LexMartinAuthor
Facebook Group: https://www.facebook.com/groups/LexMartinsWildcats
Bookbub: https://www.bookbub.com/authors/lex-martin
Instagram: https://www.instagram.com/authorlexmartin
Goodreads: https://www.goodreads.com/author/show/7792877.Lex_Martin
Amazon: https://amzn.to/2JsUTak
TikTok: https://www.tiktok.com/@authorlexmartin


GIVEAWAY

There is a giveaway for a $25 Amazon gift card


http://www.rafflecopter.com/rafl/display/c180e03534