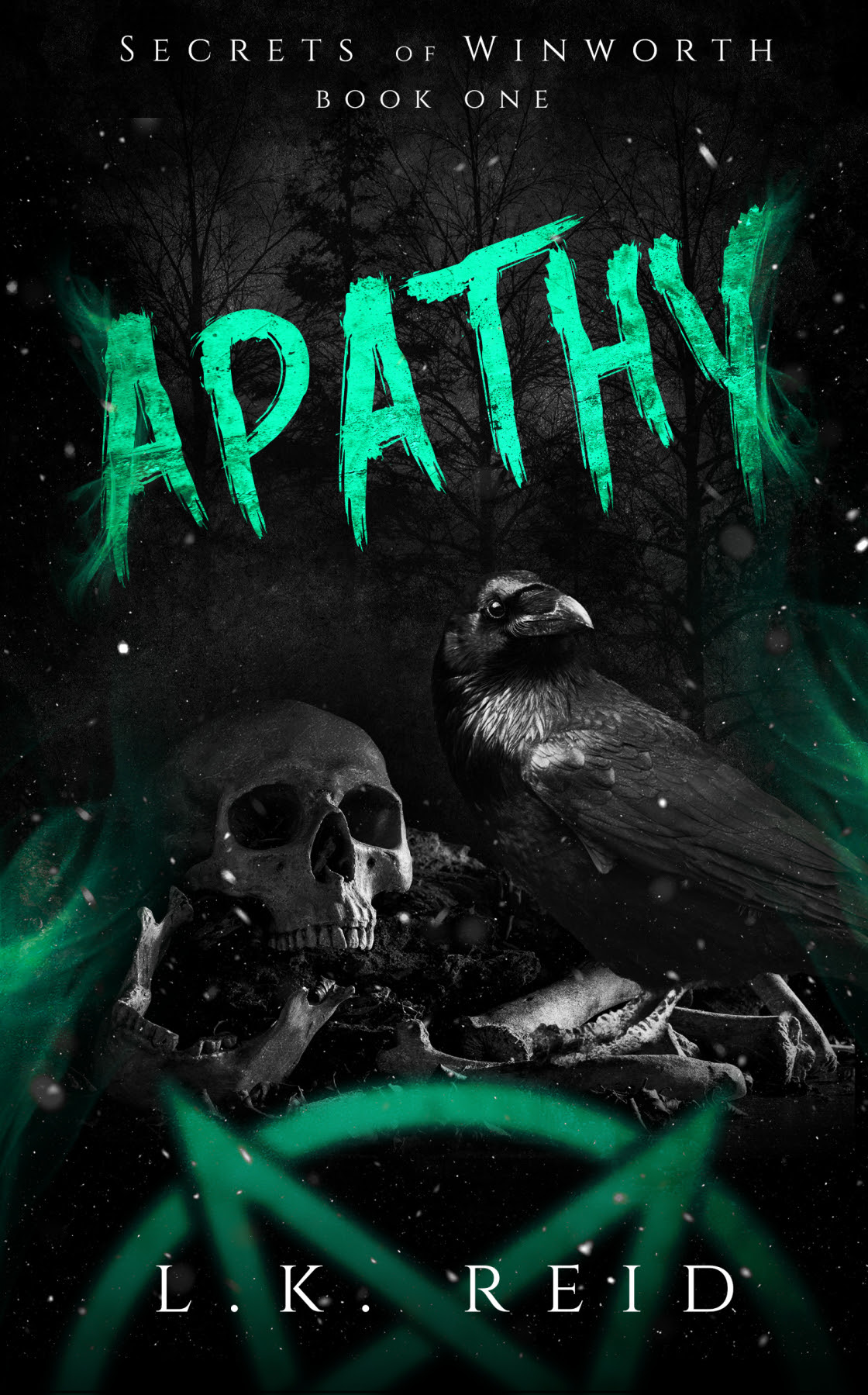 Apathy; Secrets of Winworth #1 
(#1 within a series)
Publication Date: September 20, 2021
Genre/Tropes: New Adult/Occult/Dark Romance
Author: L.K. Reid
Review/Synopsis:
Review:
I had to sit and really let this book soak in once I was finished. It's been running through my mind over the last few days, and not that other books don't, but this particular book was like the blurb warns…once you enter Winworth you don't leave.
Apathy is a dark mystery, that is seeped in twisted thoughts and drowning in wicked madness. Everyone at one point or another is a suspect in the crimes happening throughout the town.
Every.
One.
No one is safe from the suspicion that is running rampant. The plot twists and winds in a way that I never could pinpoint or nail down anyone in particular and I was completely thrown off by the shocking cliffhanger. That almost never happens when I'm thrown off base, so perhaps that is why this book is still reeling in my head. Excellent job L.K. Reid!!
Skyler, for most of the story, is drowning in pain, emotional turmoil, grief, and deep, deep sadness. She is beyond what I would call depression. She is swirling in darkness for how deeply she is struggling, but why she's suffering, we don't know the depth of her pain for a large chuck of the book. As the pieces come together her mental state begins to make sense, but coming out of that deep pool…is it really for the best? GAH!! Go back Skyler!! She is going to need so much therapy.
Ash is a new student in their school and quickly works his way into their group. He came to town with his own nefarious plans, but is he the one causing things to implode, or could he be Skylar's salvation? There is a lot of shadow surrounding him, but his character slowly comes to light the more we get into the book. Is he good, is he bad…there is so much to uncover!?!
There is a lot at work that I will not give away, because I loved being shocked and finding out the secrets myself. However, know this book is dark and covers some topics that may offend some readers, so heed author warnings incase that happens to be you.
This is only book one and with a big cliffy, there is a lot more to dive into back in Winworth. Welcome to the darkness.
Synopsis:
There were sicknesses in this world even holy water couldn't wash away.
In vicious nights, beautiful monsters lay.
Some with faces known, some ready to play.
Unsure of a friend, unsure of a foe,
Be certain of nothing you think you know,
Because what once enters Winworth,
never leaves again.
Skylar Blackwood thought she knew what monsters looked like.
But in Winworth, nothing is what it seems.
Not the arrival of a stranger with eyes that see too much, and lips that taste like danger.
Not the young women who begin disappearing in the night.
And certainly not the people in the sleepy town she grew up in that begin to turn on one another.
One truth is undeniable, something wicked is loose in Winworth.
No one is safe, and trusting the wrong person could cost Skylar everything.
Trapped between the two worlds as secrets start to unravel, what little sanity Skylar has left threatens to shatter, leaving her with more questions than answers.
Turns out, real monsters are never what they seem.
APATHY is the first book in the Secrets of Winworth series with dark themes that might be triggering to some readers.
APATHY is coming September 20!
#PreOrderNow: mybook.to/APATHY
 Add to your Goodreads TBR: https://bit.ly/3zeaG36
Find more of my reviews on Amazon under Kayreader
on Goodreads under Kay Daniels Romance
At Bookbub under Kayreader
or you can follow me on Facebook at Kay Daniels Romance