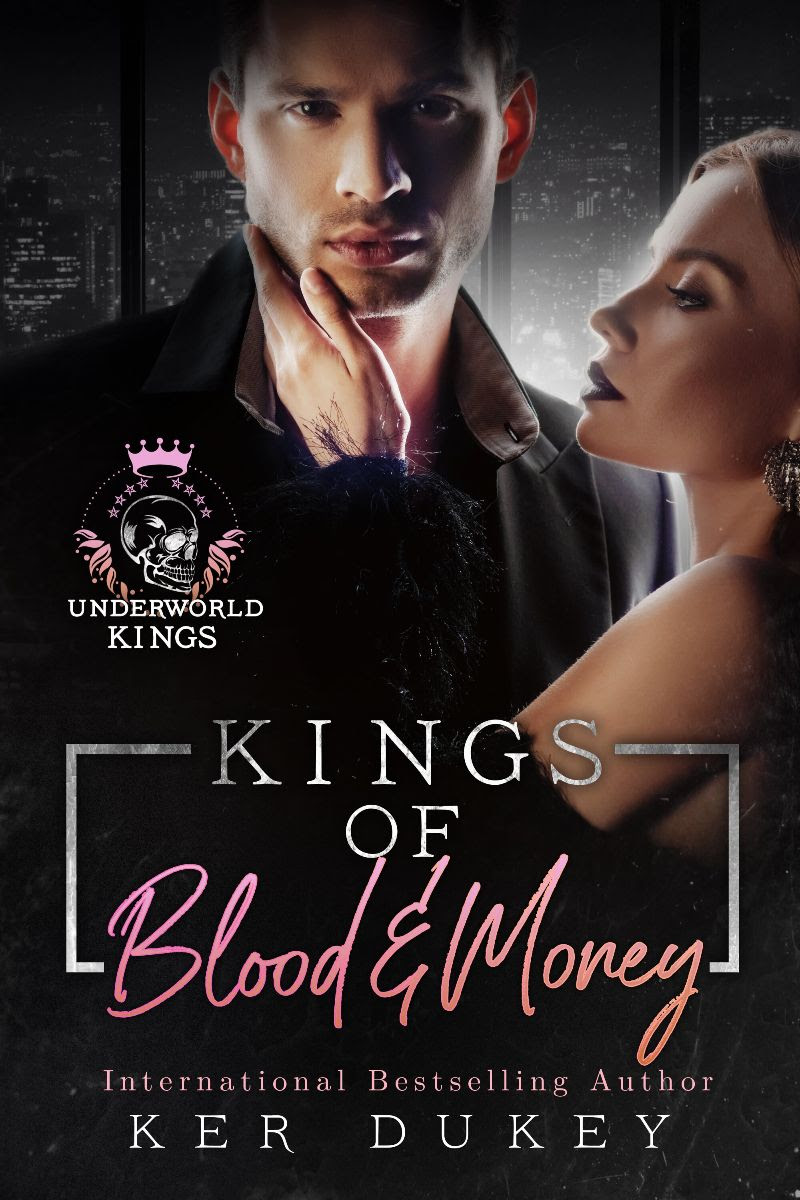 RELEASE BLITZ
Title: Kings of Blood & Money
An Underworld Kings Series Standalone
Author: Ker Dukey
Genre: Mafia Romance
Release Date: October 8, 2021
BLURB
This is not a story of love.
This is a story of revenge and the bond created from it.

 Noah

The Gallo family took everything from us.
They killed my mother and sister, leaving me and my twin brother fighting for our lives.
My father was supposed to be there that night. He should have been there. Should have protected them—us.
When you strip a man of all he cares about, you're left with a soulless entity seething with primal rage. He promised to turn Gallo's bloodline to dust to get his retribution.
And he did.
All but one.

Freya

I was seven years old when I was taken in the night. I don't remember much of life before that.
All I know now is the glaring eyes of a boy who hates me, and the comfort I find in the boy whose face mirrors his.
I'm not part of this family, but they're all I have comparable to one.
To hate is easy.
And I do hate them.
But to love even in hate is what hardens you, strengthens you, gives you reason.
The truth is I shouldn't love them, that all these years are leading somewhere I won't want to go.
But I do…
Love them.
I love them both.
The only question left now is, do they love me? 

GOODREADS LINK: https://www.goodreads.com/book/show/58411643-kings-of-blood-and-money


JOIN THE SERIES FACEBOOK GROUP:https://www.facebook.com/groups/1768597119962263


PURCHASE LINKS

US: https://amzn.to/3jkYsPW
UK: https://amzn.to/2VdXr4e
CA: https://amzn.to/3ftZ5Wh
AU: https://amzn.to/3C4GEku
Free in Kindle Unlimited



EXCERPT

"You throttled me." She levels me with a stiff glare.
"I remember seeing a bruise." It was an impulse, a need to inflict pain with her pleasure, to ground myself.
Yanking the neck of her sweater down, she scowls. "Because you like to leave marks, right?"
A shadow passes through the room as I stand and stalk toward her, devouring the space between us. Tilting her chin with my forefinger and thumb, I trace the light bruises blemishing her soft, creamy skin. I got carried away, held her too tight. Leaning down, I whisper against her ear, "You want me to kiss them better?" Her intake of breath brings a smile to my lips. She likes the big bad wolf. No matter how much she tries to deny it, claim she hates me, her body doesn't.
Fucking ditto. 
I swipe my tongue across her neck, capturing her with an arm around her waist. Her legs almost give in. She's sensitive, her nerves firing. Closing my mouth over her sore little neck, I suck, kiss, caress the bare surface.
Pulling away to face her, my balls draw up at the unfiltered lust blazing in her eyes. "Ask me to kiss you," I tell her.
Rapid breaths lift her chest up and down. "Ask me, Freya," I command.
"No." She closes her eyes, her tone husky. 
A dark chuckle rumbles past my lips as I grasp her jaw, cupping her beautiful face. "Fucking ask me."
"I hate you."
"I hate you too. Now fucking ask me."
"Kiss me," she cries. Not a plea, but shame. She's ashamed at how fucking badly she burns for the monster who frightens her so much.
"Say my name," I growl.
"Noah," she whines.
"Kiss me, Noah," I instruct.
Silence.
I tug her forward, inhaling all her sexual heat.
"Say it, Freya, and I'll give you what you need."
"Kiss me, Noah." She sobs. My insides churn at the decision I make. Slamming my lips against hers, I ram my tongue past the seal of her delectable lips, taking my fill.


AUTHOR BIO

Ker Dukey is an international bestselling author.
Genres include: Dark Romance, Psychological Thriller, New Adult Romance, Romantic Suspense, Mafia Romance, MC Romance and more.

Ker, has over Forty titles published, held multiple #1 bestseller banners and chart-topping titles with the rights sold to numerous countries, translated in multiple languages, and have been adapted into audiobooks.
In addition to being an author, Ker is an annoying wife and a mother of three children + one dog (who thinks he's human.) She has a passion for reading and binge-watching crime documentaries.
Find her on social media, where she loves interacting with her readers.


AUTHOR LINKS

Amazon: https://amzn.to/2IWVLBQ
Website: http://www.kerdukeyauthor.com
Facebook: https://www.facebook.com/KerDukeyauthor
Twitter: https://twitter.com/KerDukeyauthor
Instagram: https://www.instagram.com/kerdukey
Bookbub: https://www.bookbub.com/profile/ker-dukey
Newsletter: https://landing.mailerlite.com/webforms/landing/u8m3h4
Goodreads: https://www.goodreads.com/author/show/7313508.Ker_Dukey
Email: Kerryduke34@gmail.com