🖤🖤 ℍ𝕠𝕥 ℕ𝕖𝕨 ℝ𝕖𝕝𝕖𝕒𝕤𝕖 🖤🖤
𝗞𝗶𝗻𝗴 𝗼𝗳 𝗛𝗲𝗮𝗿𝘁𝘀, 𝗕𝗼𝗼𝗸 𝟮 𝗶𝗻 𝘁𝗵𝗲 𝗥𝗮𝗸𝗲 𝗙𝗼𝗿𝗴𝗲 𝗨𝗻𝗶𝘃𝗲𝗿𝘀𝗶𝘁𝘆 𝘀𝗲𝗿𝗶𝗲𝘀 𝗯𝘆 𝗔𝘀𝗵𝗹𝗲𝘆 𝗠𝘂𝗻𝗼𝘇 𝗶𝘀 𝗟𝗜𝗩𝗘! 𝗗𝗼𝗻'𝘁 𝗺𝗶𝘀𝘀 𝘁𝗵𝗶𝘀 𝗮𝗿𝗿𝗮𝗻𝗴𝗲𝗱 𝗺𝗮𝗿𝗿𝗶𝗮𝗴𝗲 𝗿𝗼𝗺𝗮𝗻𝗰𝗲!
#𝟭-𝗰𝗹𝗶𝗰𝗸 𝘁𝗼𝗱𝗮𝘆!
BLURB
Failing out of college wasn't on my dream board.
Neither was getting knocked up.
Just the same, here I am, ready to start another year at Rake Forge University, pregnant and currently homeless.
And it looks like I'm not the only one who's returned.
Juan Hernandez, my sister's best friend, saunters through campus with that granite jaw and those raven strands of hair kissing his brow, his whiskey eyes searing everyone to ash.
I've avoided him for months, but the second he sees me, the jig is up.
The first thing he does is steal my lips in a ravishing kiss.
A punishment.
The second thing he does is rescue me from sleeping in my car.
A lesson.
Living with him will never work, not with how brash his words are, how hot his constant stare is, or how he touches me.
His fingers brand my skin as if he owns me, and on some level, I know he wants to.
What he doesn't know is that I belong to another man…and come my twenty-first birthday, I'll return to him whether I want to or not.
Add to your Goodreads TBR: https://bit.ly/KingOfHearts-GR
Grab Wild Card, Book 1 in the Rake Forge University
➞ Amazon Universal: mybook.to/WildCardAM
PURCHASE LINKS
➞ Amazon Universal: https://books2read.com/u/4A5AX0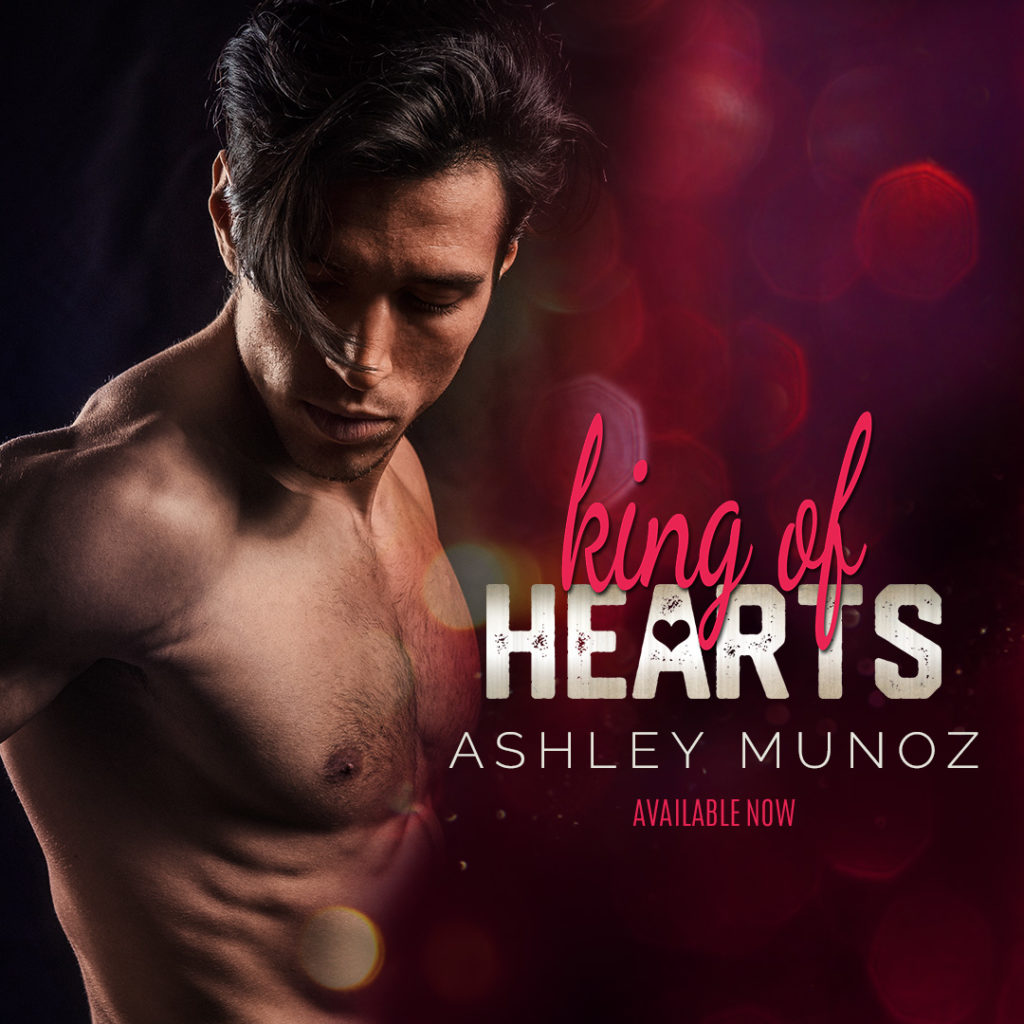 Read Kay's Review: King of Hearts
ABOUT THE AUTHOR
Ashley was born in Nebraska, but raised in Oregon where she lives with her four children and husband.
If she's not helping her husband with DIY projects around the house, she's writing or sneaking off to a corner to read.
AUTHOR LINKS
FB Author Page | ReaderGroup | Instagram | BB | GR | AMZ Author Page | Newsletter Sign up | TikTok