❤️❤️ 𝕳𝖔𝖙 𝕹𝖊𝖜 𝕽𝖊𝖑𝖊𝖆𝖘𝖊 ❤️❤️
𝗕𝗶𝗻𝗱𝗶𝗻𝗴 𝗥𝗼𝘀𝗲 𝗯𝘆 𝗨𝗦𝗔 𝗧𝗼𝗱𝗮𝘆 𝗕𝗲𝘀𝘁𝘀𝗲𝗹𝗹𝗶𝗻𝗴 𝗮𝘂𝘁𝗵𝗼𝗿 𝗜𝘃𝘆 𝗙𝗼𝘅 𝗶𝘀 𝗟𝗜𝗩𝗘! 𝗗𝗼 𝗻𝗼𝘁 𝗺𝗶𝘀𝘀 𝘁𝗵𝗶𝘀 𝗿𝗲𝘃𝗲𝗿𝘀𝗲 𝗵𝗮𝗿𝗲𝗺 𝗻𝗼𝘃𝗲𝗹 𝗶𝗻 𝘁𝗵𝗲 𝗱𝗮𝗿𝗸 𝗮𝗻𝗱 𝘁𝘄𝗶𝘀𝘁𝗲𝗱 𝗠𝗮𝗳𝗶𝗮 𝗪𝗮𝗿𝘀 𝘄𝗼𝗿𝗹𝗱!
#𝟭-𝗰𝗹𝗶𝗰𝗸 𝘁𝗼𝗱𝗮𝘆!
BLURB
I was sold to my enemies.
You would think that being forced into a loveless marriage to ensure an alliance would be unheard of in this day and age. And in most cases, you would be correct in that assumption.
But not for me.
A cartel princess has no vote on who she can or cannot marry—much less love.
Any decision in my life was forfeited just by being born into the most powerful Mexican cartel there is.
Still, it does sting that I'm to be hand-delivered to the Irish mob and marry into the Kelly family, who my own brother has coined to be nothing more than bloodthirsty savages.
They're animals, Rosa. Filthy, unscrupulous, vicious animals.
Those were his exact words, yet he still followed our father's orders to walk me down the aisle, making sure I didn't run from my obligation.
As if that was even an option.
All my choices were stolen away from me the minute I became another pawn to be used and abused at the hands of evil men.
Which leaves me to question…
Can a rose blossom in the dark?
Or will I have to rely on my thorns to protect me against the fate that's been bestowed upon me?
Only time will tell if I'll survive this cursed life or become another lost soul in these cruel and merciless Mafia Wars.
*Binding Rose is a full-length reverse harem novel in the dark and twisted Mafia Wars world.
*Recommended 18+ due to mature language, adult situations and sensitive content.
Add to your Goodreads TBR➜ https://bit.ly/BindingRose-GR
PURCHASE LINK
Universal link: books2read.com/BindingRose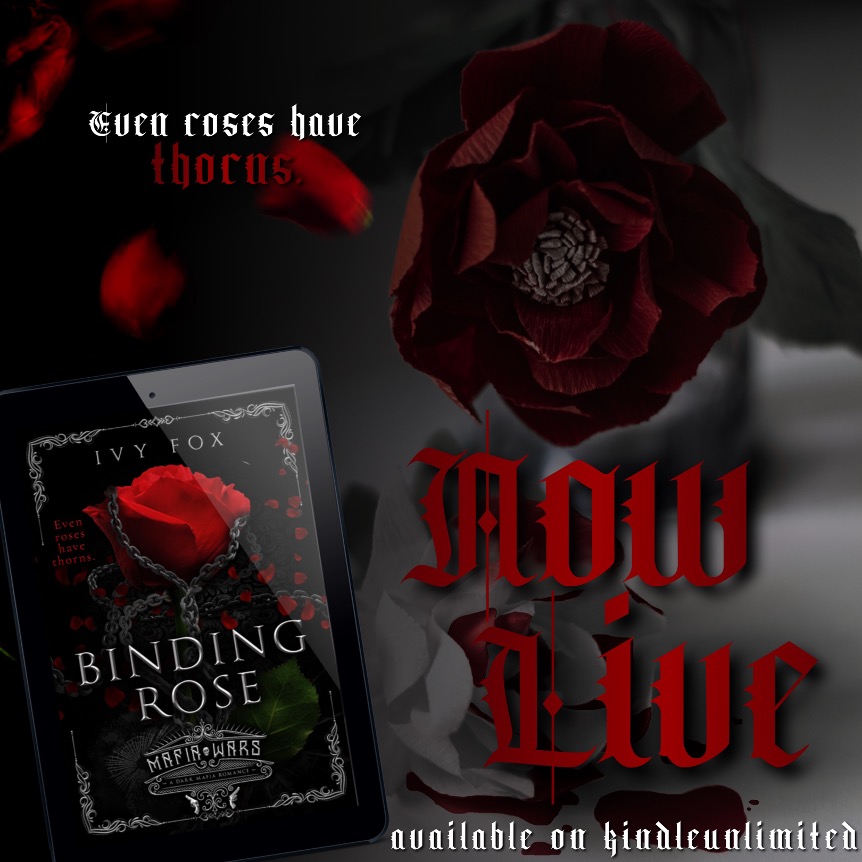 Mafia Wars is a shared world series. Each book in the series can be read as a standalone. A book will release every other Friday starting with Binding Rose! Pre-order the books in the Mafia World Series:
GUNMETAL LILY by Rebecca Royce:
https://books2read.com/RRGunmetalLily
RUINING DAHLIA by C.R. Jane:
https://books2read.com/ruiningdahlia
WILTED ORCHID by Loxley Savage:
https://books2read.com/WiltedOrchid
FORGET-ME-NOT BOMBSHELL by Susanne Valenti & Caroline Peckham:
https://books2read.com/u/mgEqD6
BLADE OF IRIS by K.A. Knight:
https://books2read.com/BladeofIris
Read Kay's Review : Binding Rose
GIVEAWAY

Would you like a chance to win a signed copy of ALL six books in the Mafia Wars series as well as getting your hands on a FREE NOVELLA for everyone who enters???
To enter the signed paperback competition and get your grabby hands on a sneak peek at all of the books in the free novella RIGHT NOW all you have to do is visit Ivy Fox's Facebook page and comment on her post here: https://bit.ly/IvyFoxGiveawayPost
And fill out this form>>> https://rebrand.ly/mafiawarsgiveaway
ABOUT THE AUTHOR

Lover of books, coffee, and chocolate ice cream!
Ivy lives a blessed life, surrounded by her two most important men—her husband, and son, and the fictional characters in her head that can't seem to shut up.
Books and romance are her passion.
A strong believer in happy endings and that love will always prevail in the end.
Both in life and in fiction.
AUTHOR LINKS
Instagram | Facebook | Facebook Reader Group | Website | Newsletter | Twitter | BookBub | Goodreads | TikTok | Pinterest