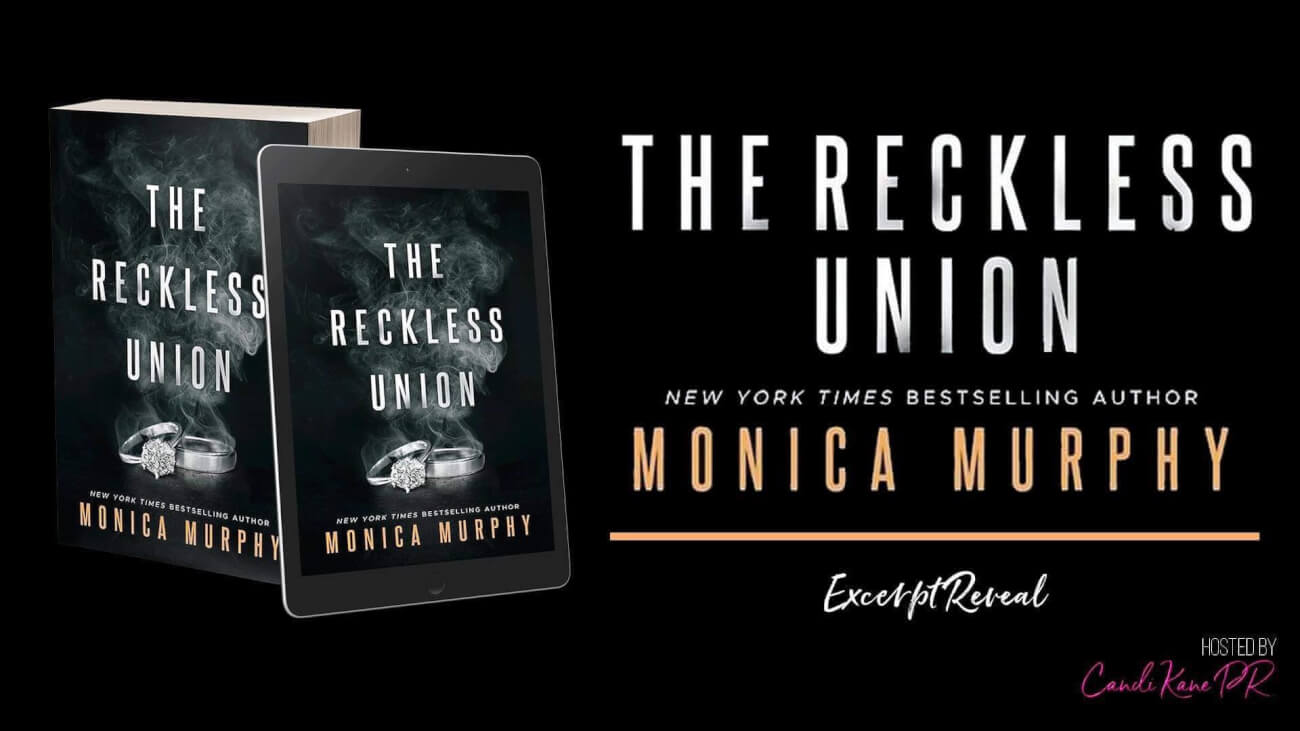 THE RECKLESS UNION (Wedded Bliss Book 3) by Monica Murphy
Release Date: August 16th
Genre/Tropes: Arranged Marriage/Fake Relationship/Dark Romance/Contemporary Romance/Billionaire Romance/Enemies-to-Lovers
Add to Goodreads:
https://www.goodreads.com/book/show/61124722-the-reckless-union
PREORDER IS AVAILABLE!!!
Amazon: https://amzn.to/3EGwfxb
Amazon INTL: https://bit.ly/3MJRXDt
Apple Books: https://apple.co/36vkD3m
Barnes & Noble: https://bit.ly/38v8Nr8
Kobo: https://bit.ly/3vET7ZY
Google Play: https://bit.ly/37EiMKc
Start the trilogy with #1, The Reluctant Bride today!
https://monicamurphyauthor.com/the-reluctant-bride
The Ruthless Groom #2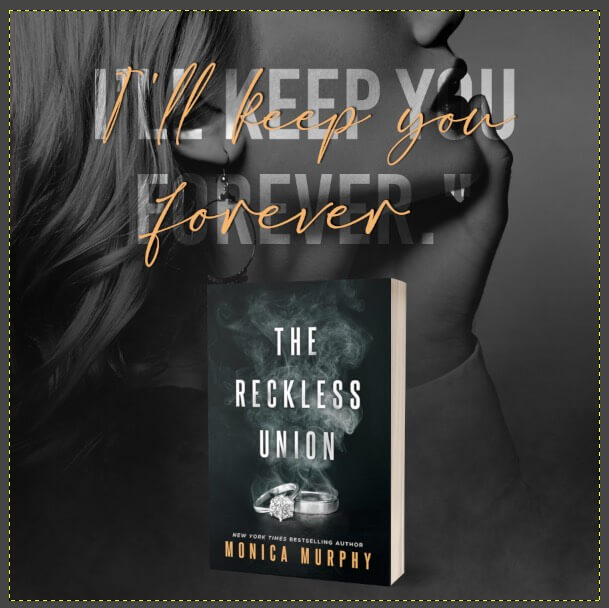 Excerpt:
"I can't lose you like that again, wife."
The admission leaves me feeling vulnerable and I swallow down the rest of the words I want to say to her.
Like how much she means to me. More than anyone else in the world.
We're quiet, the only sound is the sloshing water as our bodies move and shift. I'm getting hotter thanks to the steam wafting upwards from the water and I rest my cheek against her soft hair, closing my eyes.
"Why?"
Her softly spoken question has my eyes cracking open. "Why what?"
"Why can't you lose me?"
Carefully I lift my head away from her and run my fingers through her hair, letting the strands fall onto her shoulders, the ends trailing in the warm water. "It killed me, knowing you were with him."
"Why?"
Damn it, she's going to make me say it, isn't she?
"Because I care about you, Charlotte."
She faces straight ahead, her back still to me, bending her knees and wrapping her arms around them. "Nothing about our relationship is normal, Perry. There is no reason for you to care about me or worry when I've been abducted by my former—lover."
I slip my arms around her waist and pull her into me, the water splashing, my mouth at her ear when I murmur, "Don't call him that."
"It's true. Calling him my ex-boyfriend sounds so… wrong. We weren't ever together, not like that."
I cup her breasts, running my thumbs over her hardening nipples. "I thought for a while maybe you went with him—willingly."
She slowly shakes her head. "I would never do that."
I'm quiet for a moment, considering what she said—and how quickly she said it. "Why?"
"Because I said vows to you and promised to be a faithful wife. I'm a lot of things, but I'm not a liar, Perry. We're married. I won't leave you for someone else. I—I care about you, too." She hesitates and I swear I can feel her sadness. "I hate that he had me first."
"But I'll keep you forever." The words fall from my mouth without thought and for a split second, I regret them.
Then again, I don't. I mean what I say. I will keep her forever. That asshole can't have her back, despite his trying. He'll never try again. I won't give him the chance.
I'll chop off his hands and his dick if I have to.
"You don't mean it," Charlotte says, her voice so soft, I almost don't hear her. "You'll get tired of me, just like everyone else."
My wife is having a serious pity party tonight but I can't blame her. She's been through some shit. Shit I should've protected her from. I failed her. I fucked up.
And that kills me.
"I won't get tired of you." I nuzzle the side of her head, my mouth at her ear. "Who else tolerates the Chevelle like you do?"
I run my lips down the length of her neck, noting the hitch in her breath when I hit a particular spot. The way she melts against me, tilting her head to the side to give me better access.
"How many girls have you fucked in the Chevelle?" she asks out of nowhere.
Everything within me stills, my mouth still pressed upon her skin. Slowly, carefully, I push her hair out of the way, pressing my forehead against the back of her head and taking a deep breath. "You really want to know?"
Her body stiffens and she leans her head down, as if she's trying to get away from me. "Maybe?"
I rub her nipple with my thumb, wishing I could put my mouth on her. Taste her warm, wet skin. "The answer might blow your mind."
She nudges against me, as if she's trying to buck me off of her. "You're rude."
I clamp my arms around her middle so she can't slip away from me. "It's zero, Charlotte. I haven't fucked anyone else in the Chevelle. Until you."
My wife freezes, turning her head so she can meet my gaze. "You're serious?"
"Why would I lie to you?" I drop a kiss on her lips, not wanting to push. She responds, leaning into me and I break away first, trying to keep my head. "There's something here. Between us. You feel it too."
Charlotte blinks at my honest response. "Do you want to know what I thought about when I was tied up in that room?"
My skin feels like it could burst into flames at her mentioning being tied up. Alone in an empty room, waiting for that McFuckface to come back and do whatever he wanted to her. She must've been so damn scared. "What?" I ask, my throat scratchy. "Doja?"
Her eyes fill with tears and a soft laugh leaves her. "You. If I was ever going to see you again. Feel your arms around me. See you smile. Hear your laughter."
My chest aches at her confession. "I'm never letting you out of my sight again."
Blurb:
Our marriage may look like a fairytale, but outside forces threaten to tear us apart. Don't they realize that nothing will keep me apart from Charlotte? Not my family. Not hers either.
What started out as a relationship in name only has evolved into something much more. Something deeper. And when Charlotte is taken from me, I launch into action, determined to rescue her.
She's mine. Nothing is going to stop me from being with her.
Not a damn thing.
About the Author:
Monica Murphy is the New York Times and USA Today bestselling author of the One Week Girlfriend series, the Billionaire Bachelors and The Rules series. Her books have been translated in almost a dozen languages and has sold over one million copies worldwide. She is both a traditionally published author and an independently published author. She writes new adult, young adult and contemporary romance. She is also USA Today bestselling romance author Karen Erickson.
She is a wife and a mother of three who lives with her family in central California on fourteen acres in the middle of nowhere, along with their one dog and too many cats. A self-confessed workaholic, when she's not writing, she's reading or hanging out with her husband and kids. She's a firm believer in happy endings, though she will admit to putting her characters through many angst-filled moments before they finally get that hard won HEA.
Connect with Monica:
Website: http://monicamurphyauthor.com
Facebook: https://www.facebook.com/MonicaMurphyauthor/
Goodreads: https://www.goodreads.com/author/show/5934418.Monica_Murphy
Amazon: http://amzn.to/1YUl0Vm
Bookbub: https://www.bookbub.com/authors/monica-murphy
Instagram: https://www.instagram.com/monicamurphyauthor/
Newsletter: http://bit.ly/IW5U0y