Filthy Jealous Heir; Heirs of All Hallows' #1
(#1 within a series)
Publication Date: December 15, 2022
Genre/Tropes: Book Duet/New Adult/Secret Society/Sports/Enemies-to-Lovers/Bully Romance
Author: Caitlyn Dare
Review Rating: 5 Gold Stars
Review/Synopsis:
Review:
Caitlyn Dare brings us a new world where several bad boys belong to a hypocritical-long-standing-tradition secret society. One that I feel the women in this world won't just roll over and just beg at their feet. Filthy Jealous Heir was dark and delicious in only the best way an enemies-to-lovers story can be.
Yes, I do love a really good bad boy, but Caitlyn Dare also loves bringing us the equally good bad girl to rile those bad boys right up. Honestly, those books from Dare are my favorite and so far this first part of FJH is falling right into that category.
I would recommend reading the prequel for some reference. It covers the initiation along some other vital information between everyone and where a lot of the animosity between everyone stems from.
While Reese makes it pretty clear that he dislikes Olivia she also makes it clear that she is not a girl who backs down or rolls over when Reese pushes her around. She grew up with all of the Heirs and while her twin brother is initiated into the society and is uber protective of her, if there is anyone who might have more sway over her it's her twin. Aside from that Olivia has a voice and she gets a  little tired of the "boys will be boys" phrase her dad tosses out or even walking down memory lane as he glosses over her comments and basically pats her on the head. I feel Olivia is going to bring a day of wreckening and I can hardly wait.
Reese is filled with some dark secrets and yet, he is also filled with a lot of regret. I don't believe he's entirely looking to ruin people for the sake of being a total douche, although a lot of his actions sort of lead us down that path…he's angry, he's definitely hurt, and he's lashing out because of everything that is pent up and out of his control. I'm calling him a lion with a thorn in his paw and he believes that Olivia is a mouse. Did that fable work out well for both animals, maybe I need to brush up on my Aesop, either way…I can hardly wait for the continuation of this story since we were left with a whopper of a cliffhanger. Will the lion catch his mouse once the thorn is removed or will the mouse run away?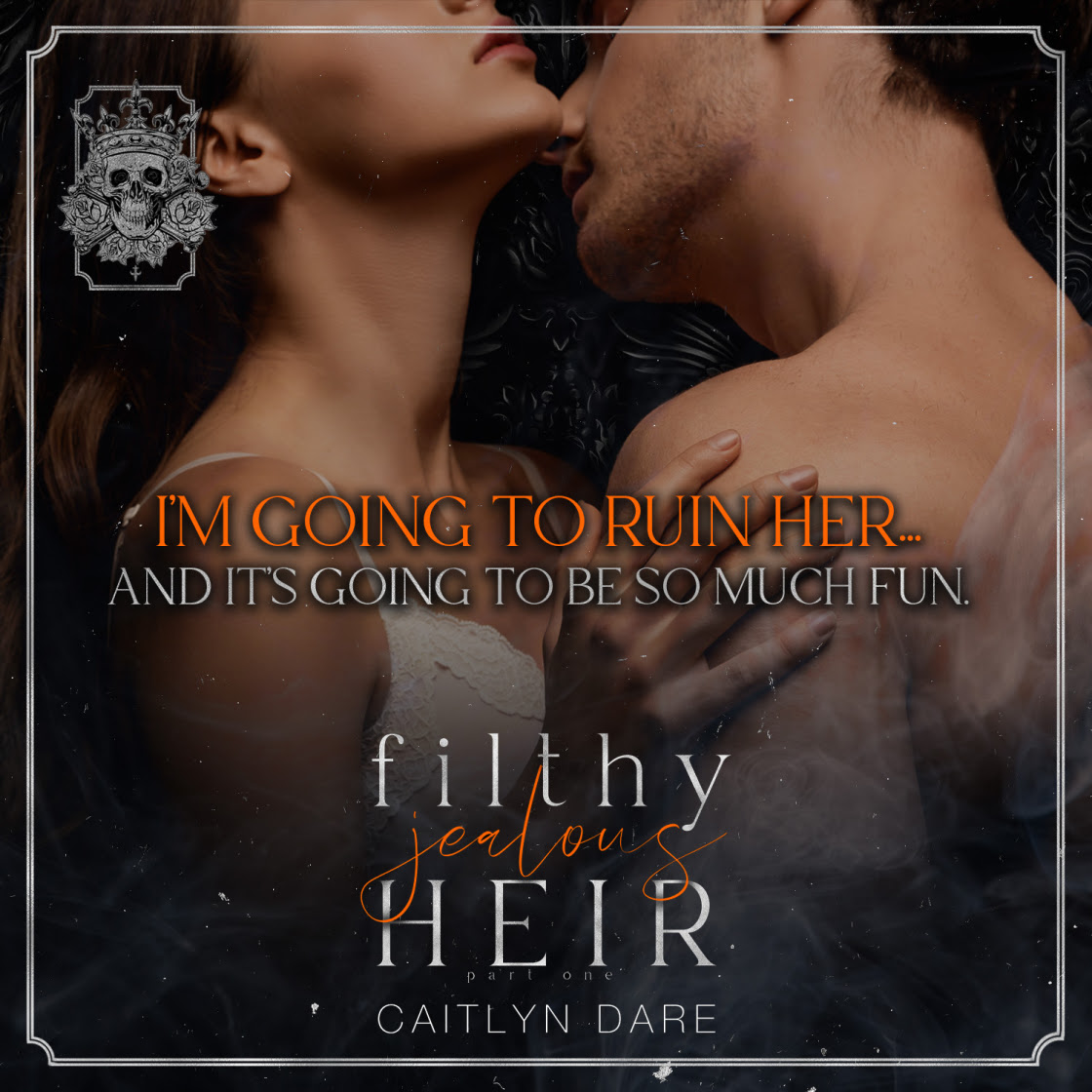 Synopsis:
A brand new dark bully romance series from bestselling author Caitlyn Dare.
The Heirs of All Hallows' are waiting to corrupt you…
He's filthy. He's jealous… and he's dead set on ruining her.
Olivia Beckworth knows what it's like to live in a man's world. She is the twin sister of an All Hallows' Heir, after all.

Wicked. Arrogant. Entitled. They stalk the halls of All Hallows' like gods.
She hates everything they stand for, everything they represent. But she hates none more than Reese Whitfield-Brown. Her brother's ex-best friend and the Heir that up and left them without so much as a word.
At least with Reese gone, no one will ever find out her dirty secret little secret.
She's safe. She can move on with her life…
Until Reese shows up ready to get revenge on everyone who hurt him.
Including Olivia.
His new stepsister.
What you can expect:
Enemies to Lovers
Bully
Sports
Secret Society
Filthy Jealous Heir: part one is a dark high school bully romance. If possessive, rugby playing alphaholes aren't your thing, you probably won't like this book!
Grab the FREE prequel Wicked Heinous Hearts here: https://mybook.to/WickedHeinousHeirs
Find more of my reviews on Amazon under Kayreader
on Goodreads under Kay Daniels Romance
At Bookbub under Kayreader
or you can follow me on Facebook at Kay Daniels Romance