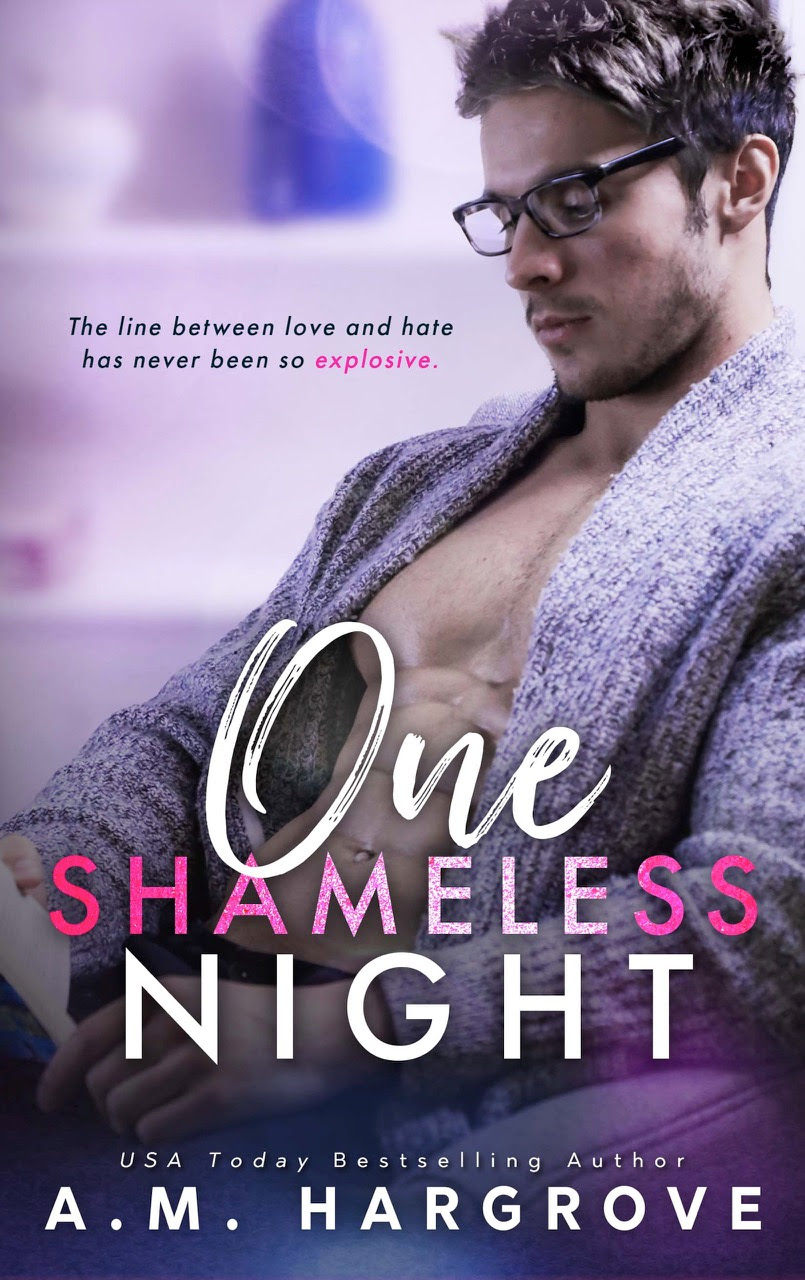 RELEASE BLITZ
Title: One Shameless Night
Series: West Sisters #2
Author: A.M. Hargrove
Genre: Standalone Contemporary Romance
Release Date: September 5, 2019
BLURB
The line between love and hate has never been so explosive.
The first time I saw Alessandro, two things came to mind.
Sexy and naked.
You get the idea.
Thanks to him, my flight from hell became the best one I'd ever been on.
Turned out, the engaging, gorgeous passenger, was my new professor…and the ultimate jerk.
Rude, prick, cocksucker, were a few choice names I'd love to call him.
How was this offensive man the same human I'd met on the plane?
His soul must've been invaded by demons after leaving the airport.
To think I'd almost joined the mile high club with him. Almost.
Everywhere I went he was there raining more insults on me.
Until I saw him with his adorable mini look-alike.
That charming little boy melted my heart.
Before I knew it, I'd accepted his son's invitation to play soccer.
What the hell was I thinking?
I hated that man.
But naked and sexy had gotten me into this mess.
And not even hate could get me out.
GOODREADS LINK: https://www.goodreads.com/book/show/46781407-one-shameless-night
PURCHASE LINKS – $2.99 for a limited time!
US: http://1click.bz/OneShamelessNightAMZNUS
UK: http://1click.bz/OneShamelessNightAMZNUK
CA: http://1click.bz/OneShamelessNightAMZNCA
AU: http://1click.bz/OneShamelessNightAMZNAU
Free in Kindle Unlimited
PLAYLIST 
https://open.spotify.com/playlist/2SnTerECLEaQRUMIzIEaXr?si=qcJ8B6bjR0isHzMNeiJdow
ALSO AVAILABLE
#1 One Indecent Night 
US: https://amzn.to/2UdnpzP
UK: https://amzn.to/2zwWiWI
CA: https://amzn.to/2MRDPx5
AU: https://amzn.to/2L4RChs
Free in Kindle Unlimited
AUTHOR BIO
One day on her way home from work as a sales manager, USA Today bestselling author, A.M. Hargrove, realized her life was on fast-forward. If she didn't do something soon, it would be too late to write that novel she had dreamt of her whole life. She slammed on the brakes, made a crazy decision, and quit her job. Then she reinvented herself as a Naughty and Nice Romance Author.
She fancies herself all of the following: Reader, Writer, Dark Chocolate Lover, Ice Cream Worshipper, Coffee Drinker, Grey Goose Aficionado, and #WalterThePuppy Lover. If you're around her for more than five minutes, you'll soon notice she has a tendency to talk your ear off.
You can find out more about her books at www.amhargrove.com. To keep up to date with her, you can subscribe to her newsletter here: http://amhargrove.com/mailing-list
AUTHOR LINKS
Facebook: http://www.facebook.com/amhargroveauthor
Facebook Group: https://www.facebook.com/groups/HargrovesHangout
Instagram: http://www.instagram.com/amhargroveauthor
Bookbub: https://www.bookbub.com/authors/a-m-hargrove
Goodreads: https://www.goodreads.com/Amhargrove1