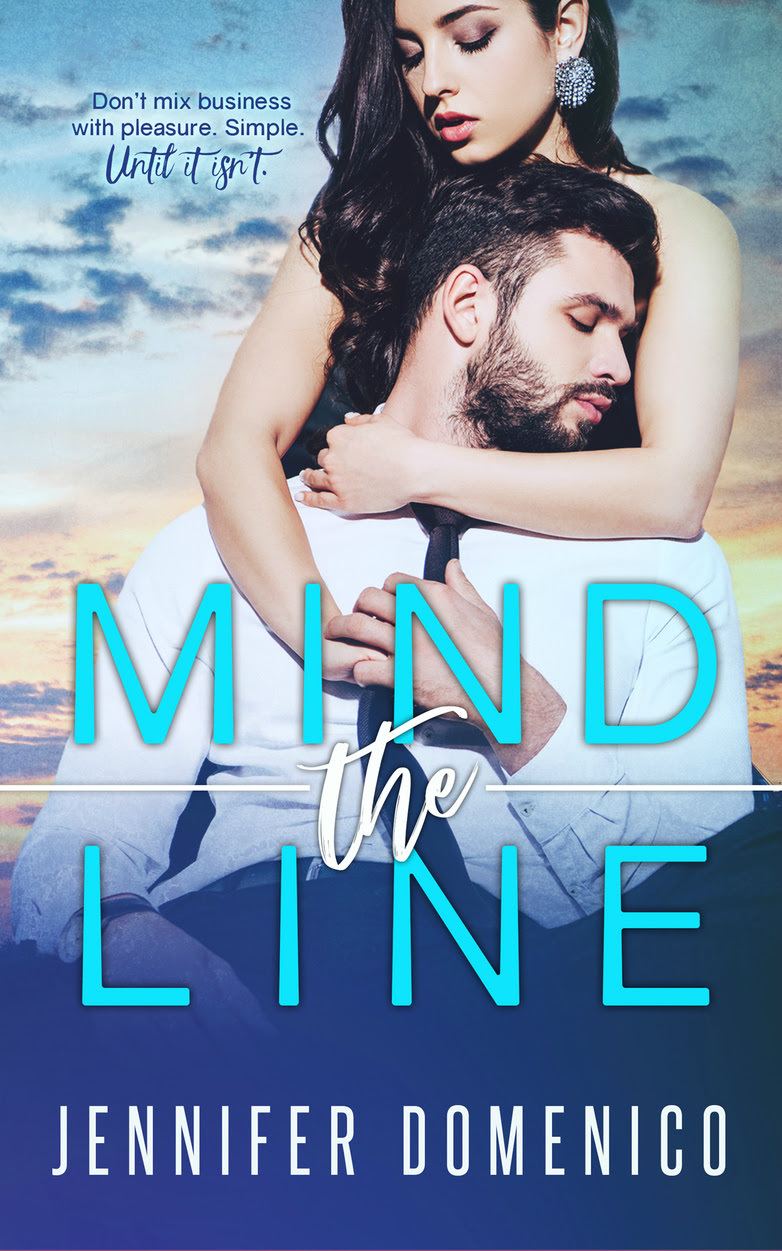 RELEASE BLITZ
Title: Mind the Line
Author: Jennifer Domenico
Genre: Standalone Contemporary Romance
Release Date: May 20, 2019
BLURB 
Ellis Worthington has something I need, and I refuse to be intimidated by his demanding reputation. I can barely stand him, but I need a job. I make my living tackling other people's problems. The bigger the scandal, the more I want in—at least until I'm the center of the scandal. Now, I need Ellis and his mess to redeem myself.
My first challenge is convincing him to take me on. The second is ignoring the relentless attraction between us. But the biggest challenge? The more time I spend with him, the more I wonder if crossing that invisible line is worth risking everything.
Tagline: Don't mix business and pleasure. Simple. Until it isn't.
GOODREADS LINK: https://www.goodreads.com/book/show/39774536-mind-the-line
PURCHASE LINKS – 99c for a very limited time!
US: https://amzn.to/2LOKXum
UK: https://amzn.to/30nxIUz
CA: https://amzn.to/2JJ0EjP
AU: https://amzn.to/2WSDwDy
Free in Kindle Unlimited
AUTHOR BIO
Jennifer Domenico writes contemporary and erotic romances. She loves alpha males with a soft spot, flawed characters, and strong, sassy women. Her characters usually have a side of kink and aren't afraid to demand what they want. The author doesn't apologize for that. She's a sucker for a happy ending as long as it comes with a lot of heat.
She lives in Phoenix, Arizona but is a Bostonian at heart. The way to her heart can be reached with a foreign accent, a shot of Fireball, and an unlimited supply of cupcakes.
She is also known under her alter ego, Jaelyn LaStoria, author of time travel romances, because why not.
AUTHOR LINKS
Facebook: https://www.facebook.com/authorjendomenico
Facebook Group: https://www.facebook.com/groups/JensGemsDomenico
Twitter: https://twitter.com/jendomenico
Instagram: https://www.instagram.com/jendomenicowords
Amazon: https://www.amazon.com/Jennifer-Domenico/e/B009TX6C5Q
Newsletter: http://eepurl.com/cnqm1L
Bookbub: https://www.bookbub.com/authors/jennifer-domenico
GIVEAWAY
There is a giveaway for a $25 Amazon gift card