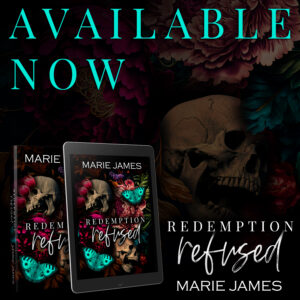 REDEMPTION REFUSED
Marie James
Release Date: June 1
FREE ON KINDLE UNLIMITED
Hooking up with the college freshman I was supposed to keep an eye on was easier than tracking her.
Kidnapping her after that first night was easier than following her around campus.
I'm massive, scarred, and tattooed. I don't exactly fit in with her crowd.
After the job was done, cutting her loose was the hard part.
Making it through the day without seeing her became impossible.
Some may call it stalking, but I call it vigilance.
She seems invested in this game of cat and mouse we're playing, but she's mistaken.
I'm not a toy she can discard when she's bored.
Trying to get her out of my system may leave us both in pieces.
Grab Your Copy!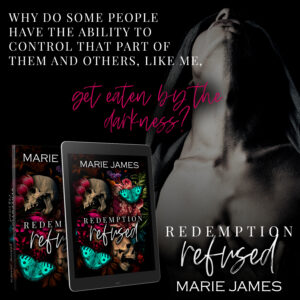 Read Kay's Review: Redemption Refused
Meet Marie James:
Let's see…where to begin…
I'm a full-time author, mother of two boys, and wife of 18+ years. Dog Mom to four great danes: Maximus, Nala, Freya, and Hagrid.
I've spent almost my entire lifetime living in central Texas, with only short stays in South Carolina, Alabama, and Florida. Currently residing in a sleepy little town in East Tennessee.
Writing is my passion, and I absolutely love being able to sit down and put all of my thoughts and emotions into my stories.
I love dogs, coffee, making handmade cards, and steamy romance novels!
Keep up with Marie James and subscribe to her newsletter.
To learn more about Marie James & her books, visit here!
Connect with Maire James:
https://authormariejames.com/contact
Hosted By: