🔥🔥COVER REVEAL🔥🔥
Broken Playboy by Laura Lee is coming October 22!
#PreOrderHere:
http://mybook.to/BrokenPlayboy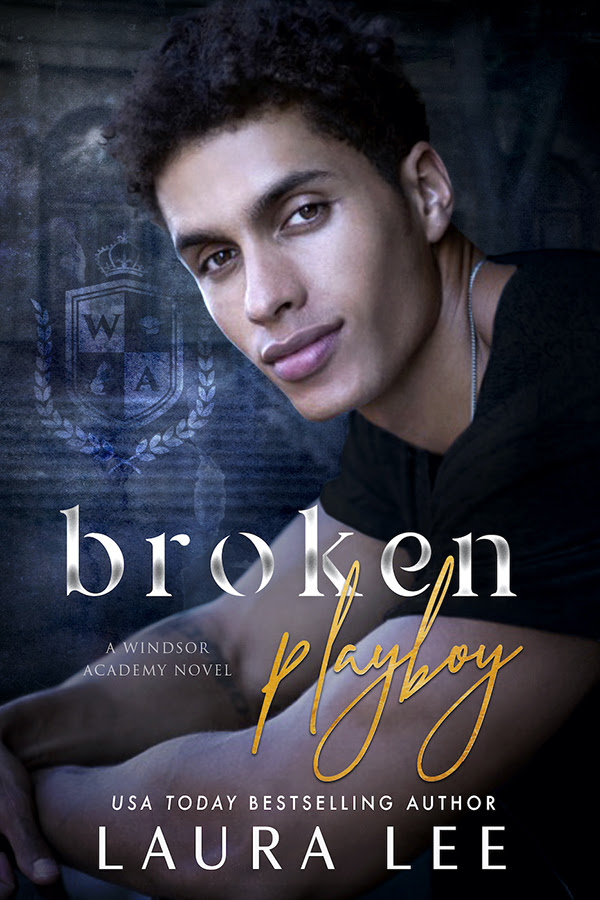 From USA Today bestselling author, Laura Lee, comes the sexy and heart-wrenching new standalone story set in the Windsor Academy world.

They call me a player.
A joker.
The guy always down for a good time.
But if they knew the secrets I've been keeping, they'd call me something else entirely.
For the last two years, I've been buried in shame, numbing the pain with various vices. Drowning in self-hatred and concealing it with a smile.
I had a system in place, a surety that no one would learn the truth. Then Sydney Carrington came waltzing back into my life.
She's the new headmaster's daughter.
The most beautiful girl I've ever met.
The one person on Earth who can expose what I've worked so tirelessly to hide:
That I'm the fucking villain in this story.
◆ BROKEN PLAYBOY is the fourth book in the Windsor Academy world. While it may be read as a standalone, as it focuses on a new couple, your reading experience may be enhanced if you read the entire series in order. This book may contain triggers for sensitive readers. Due to mature subject matter, it is recommended for readers 17+ only.
ABOUT THE AUTHOR
Laura Lee is the USA Today bestselling author of steamy and sometimes ridiculously funny romance.
She won her first writing contest at the ripe old age of nine, earning a trip to the state capital to showcase her manuscript. Thankfully for her, those early works will never see the light of day again!
Laura lives in the Pacific Northwest with her wonderful husband, two beautiful children, and three of the most poorly behaved cats in existence. She likes her fruit smoothies filled with rum, her cupboards stocked with Cadbury's chocolate, and her music turned up loud. When she's not writing or watching HGTV, she's reading anything she can get her hands on. She's a sucker for spicy romances, especially those that make her laugh.
Links
Amazon : http://smarturl.it/0r2vk3
BookBub: http://smarturl.it/kcb0xe?IQid=BookBub
Facebook: http://smarturl.it/q4xqez
Reader's Group: http://smarturl.it/9t5gx5
Instagram: http://smarturl.it/61kpld
Twitter: http://smarturl.it/j891hn
Newsletter: http://smarturl.it/ita2zg
Book + Main: https://smarturl.it/bvsyu8
Goodreads: https://smarturl.it/r2gwl0
Pinterest: https://smarturl.it/z3xt7d