A new Year and a new Decade has arrived!! It hardly seems possible that so much time has passed.
When I look back at the last ten years and think about the significant changes that have happened there is a lot that has occured and also a lot that has stayed the same. I've watched my children blossom from little girls into young women, but they are still amazing, beautiful girls with so much ahead of them in life and I can't wait to see what amazing things they do with their futures. We've moved homes and jobs, we've lost family members and pets, but through every change we've also grown and adapted to who we are or who we will become.
For me, personally, when life throws me something I don't enjoy dealing with I jump into a fictional world so I don't have to deal with reality. What better way to escape the harshness of life than to see that someone else's life is either more screwed up than yours or dream that you were living somewhere else instead of where you currently were or whatever fantasy you wish to escape to. Reading does that in the best way possible.
If you'd like to visit any of the places I escaped to in the past year feel free to read all the reviews for books released in 2019 Reviews
Please check out all the books released this past year listed under New Releases
Let's get to why you've really checked out this page…the best books of 2019!!
The Best Of 2019
There were a lot of strong contenders for each category this past year, but that is never a terrible thing because that means I read a lot of really great books!! What makes it difficult is then narrowing all of those great books into just picking one favorite, so then yes, it is hard. Every author always deserves a "job well done", their job is not easy. That job well done also goes out to everyone working in the book industry because a book is not raised alone, it takes a village to make it successful (yes, I'm using the child analogy. Just ask any author – their book is very much like birthing and raising a child).  But, enough with my blabbering….
*Every category is totally and completely picked by Kay Daniels Romance and all opinions are my own*
Every year there seems to be a different, but almost similar WOW factor that jumps out among the books I've read.  This year the question that kept circling in my mind for best overall book was; What book did I remember (plot, characters, trope, etc…) and what author did I then continue to seek out as the year continued? 
Right out of the gate for 2019, I read The Kiss Thief by L. J. Shen. She was a new author for me this year (which also happened to be a personal goal I'd set – see Monthly Author Feature – L.J. Shen) and this also opened up my reading world to a new trope, the antihero. L.J. Shen writes the best broken men who seem so far gone to darkness, but Shen has this beautiful skill to write the strong women to bring these seemingly unredeemable men back from damnation. While these men most often look at themselves as the villian, they become the hero in the eyes of their love. Shen's plots are emotional and angsty and drag you in with the wonder if the villain really will give up the darkness that resides inside. Will love really win or the darkness that has ruled in their heart for too long? Her books are always page turners and keep me up late into the night reading.
L.J. Shen writes a lot of New Adult angst, especially in a series, but if you haven't read any of books yet or haven't read this standalone novel, I highly suggest reading The Kiss Thief!! 
Here is the synopsis:
The Kiss Thief is like reading a modern day Romeo and Juliet, but so much better! It was hard to pinpoint an exact category because it contains aspects of New Adult Romance, Mobster Romance, Twisted Fairytale Romance, Contemporary Romance, Shakespeare, and then with some Mythology (which I loved) thrown in. I loved each small dash of flavor and it made for an excellent first read for 2019!!
"A story of a Nemesis and a Villain with no chance at a happy ending. Where the prince doesn't save the princess. He tortures her. And the beauty doesn't sleep. She's stuck. In a nightmare."
Both Wolfe and Francesca are stubborn creatures – a story where pain and torment surface again and again, much at each others hands. There are so many pieces to move into play before either of them even consider the chance of liking one another much less considering a future where a mobster's daughter and a senator can reside in peace vs. in pieces.
"Falling in love was so tragic."
Francesca Rossi knows she lives in a locked cage, but is fine with the bars. What may seem weird to some, she doesn't look at her life as anything but the way it should be. A long line of traditions that she has now been waiting for as she is finally ready for her life to begin. Within her family a Rossi bride has always received a box that contained three notes that would hold a piece of her destiny within them. The one time Francesca went against what the tradition said, she opened the box before her wedding day and read the first note. Upon discovering that she would know her true love when she received her first kiss Francesca took matters into her own hands and decided to seek out her childhood crush, knowing he had to be her true love. When the kiss happened, it was not her first love that Francesca kissed, but instead a wolf in sheeps clothing who devoured her. The wolf stole more than just a kiss as his plans were to stop at nothing until her entire world crumbled around her. Senator Wolfe Keaton was The Kiss Thief and Francesca was about to find out that she was caught in a wicked game. One that she knew nothing about, but would pay the ultimate price for.
"You stole my first kiss. Then my happiness. And finally, my life."

Wolfe Keaton had wanted only one thing for so long – revenge. Little else mattered aside from bringing Arthur Rossi down to his knees. Taking his only daughter away from him, under the guise of outdated traditions was simply the cherry on top of his long awaited game plan. The fact that Francesca was a thing of beauty made his job just that much sweeter. Given his job with the state she would serve him well as a trinket tucked upon his arm at social gatherings, she was a rare treasure, one he hadn't been counting on when he began his plan thirteen years ago.  Wolfe certainly didn't expect to find his new fiancée intelligent and decent, a polar opposite from the man whose blood ran through her veins. His life would be so much easier if she was exactly like the man he was trying to take down, piece by piece. He'd do well to remember that she was just a pawn in his game and not a queen to sit by his side. He had no need for a happy ending with the woman he was soon to call his bride.
""He was hell wrapped in a heavenly rugged mask. He was fire. Gorgeous to eye, lethal to the touch."
L.J. Shen knows how to write a highly charged story with an antihero like any other. The Kiss Thief is a high octane read that grabs you making you emotionally invested right from the start and has you turning pages late into the night.
Romantic Comedy should contain everything that is funny, sassy, make you laugh out loud while still falling madly in love with the characters. It can be a delicate balance between snorting constantly over antics and finding the hero sexy as sin, but a great writer (or in this case writers) did both brilliantly.
Surprise, Baby! is a book that is fun, flirty, dirty, and so, so loveable. While reading, I love to highlight special passages, funny sayings, or memorable moments…I just about highlighted this entire book. I was either in stiches laughing or sighing at all of the loveable/laughable breakout moments. Lex and Leslie are a phenomenal writing duo and I seriously cannot say enough great things about how much I enjoyed reading Surprise, Baby!

Here is the synopsis:
"There's a fine line between lust and hate."
Kendall Greer works in public relations and knows all about fixing messes and covering up mistakes. Hence, why Drew Merritt, one of Portland's most eligible bachelors, is one of her biggest achilles heels. He hasn't always been responsible, he's actually been the complete opposite of responsible and a publist's nightmare. Unfortunately, Drew hasn't always been on his best behaviour around Kendall, actually he's typically been at his worst when she's been around, but you know there's a fine line between lust and hate. 
"Since I've known Kendall, she's yelled at me, lectured me, ignored me, talked over my head, talked down to me, and made sure that there was no chance in hell I'd ever be able to touch her. Kendall's like a gorgeous IRS auditor – she's out to prove me wrong, but the words that come out of her mouth make me hard."-Drew

There is no denying, the attraction they feel towards each other, so when they find themselves stranded, locked away in a mountain cabin, they don't try to fight what is lying beneath all the layers of bad decisions and bad history.
 "Drew 2.0 is…sweet. And dare I say thoughtful? I like this new side to him. More than I care to admit." Kendall
As Drew and Kendall try to navigate their hot mess of a non-relationship, oops…surprise! Things get complicated.
Cruel Intentions is the first book in a trilogy, The Rydeville Elite series. So I can't mention the first one without mentioning the others as well; Twisted Betrayal and Sweet Retribution. Siobhan is known for writing angsty, new adult novels, but this entire trilogy goes beyond anything she has written before. The Rydeville Elite series is not only filled with angst, but it is a dark, bully romance that will leave you on the edge of your seat. Each book is filled with so many twists and turns I seriously couldn't turn the pages fastest enough to find out what happened next.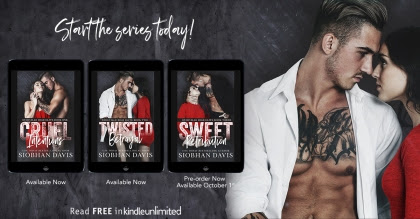 While Siobhan is known for her emotional, tear-jerking, great plot twists books, and Cruel Intentions was no exception, I had a few more emotions that popped up while I was reading; stunned, shocked, appalled, stomach-churning-but-couldn't-look-away-intensity and I had to keep reading because I was now addicted to this book.
These were a new emotions for me. Reading this level of darkness and then the need to continue reading it was new. I can't say I'm normally a fan of dark romance, but Siobhan fed me this trope in a way that I had to keep reading it, I was an instant addict, much in the the same way Abigail, the heroine, felt in seeking vengeance to everyone in her life who had caused her pain, even though she continued to get abused.
Here is the synopsis:
"In the power struggle between two elite groups, one feisty girl will bring them to their knees…"
Cruel Intentions ia a dark romance set in high school. There are a lot of adult themes; abuse, toxic relationships, blackmail, bullying…to just to name a few, but it's a story of old money vs. new money. One were the children are pitted against each other all based on rules set by their parents and their parents parents and so forth. Abigail is set right in the middle of a battle, she is a pawn and she constantly tries to change her position on the board to become queen.
Abigail is the prime example of how in this world, women have little to no power. Women are only as good as their family name, the state of their virginity, and should be seen and not heard. Abigail Manning hates the world she lives in, but puts of the facade while she has to live in it.
We meet Abby at a very low point in her life, along with her savior, who unbeknownst to her is also her worst nightmare; Camden Marshall.
"I'm drowning in Camden Marshall, both hating and loving it at the same time."
Cruel Intentions is a dark and twisted story filled with a circle of people that you don't know who to trust. This is Abby's everyday life; mistrust, deceit, vengeance. The old elite; Drew, Charlie, and Trent vs. the new elite; Cam, Sawyer, and Jackson. Abby is caught in the middle. A pawn who is pulled between the two worlds in the position for queen.
"How is it I crave the thing I hate the most?' he whispers, his mouth moving to my jaw. "How do you do that? Make he want you when I despise you?"
Welcome to Rydeville High.
4. My new favorite-discovered-author-to-keep-reading in 2019
:
Charity Ferrell
I set a goal this past year to discover more new authors than I have in the past. Many months it was difficult to narrow down my favorite pick to just one because I discovered many new favorites and while this is a wonderful problem to have because it has opened up new tropes and new worlds I haven't experienced before it is also a problem because my TBR list has grown to even wider proportions because I'm adding their books in like crackcandy and try to squeeze them in whenever I have time. It isn't always possible with my review schedule, but that doesn't mean it isn't impossible.
Read Monthly Author Feature – Charity Ferrell to read more about my monthly goal and the feature I did on Charity.
I found Charity earlier this year and it happened to be with a book that was already four deep into a series. There was a ton to love about Just Neighbors, but what drove me to read the rest of the series this year (remember my squeezing in–and I definitely made time to squeeze), I loved everything she packed into her writing. Her stories contained depth, I really got to know the characters, to have a deep empathy with them while sharing laughs, steamy moments and crying over emotional times. Just Neighbors was more than just an enemies to lovers romance and while it can be read as a complete standalone, I had to learn more about the people of Blue Beech, so I did. I read Just A Fling, Just One Night, Just Exes, and Just Roommates this year too.
"Every day, my neighbor tells me to have a good morning.
Every day, I tell him to f*ck off."
The book literally begins with the quote listed above. Further down Chloe's inner monologue tells us "His voice and I share a love-hate relationship. It makes my panties wet, but I wish it belonged to someone who wasn't an a**hole." This has to be one of the best openings to a relationship between two enemies ever.
Right off the bat there are so many questions? What is with the animosity? What did the hottie do? Why is he so nice when clearly Chloe isn't?
The racing of questions continued in my head while I was chuckling at the quick monologuing and cursing Chloe continued throughout several chapters at the beginning of this book. The aim of all her hatred, Kyle Lane her sexy neighbor, takes the verbal beating in stride, making me laugh even more.  Everything Kyle does only seems to infuriate Chloe further and so their cycle continues with great sarcastic wit.
But why?
"I seriously hate you more than the Grinch hates Christmas."-Chloe
As their cat and mouse game continues you get glimpses into their past. Kyle has always been Blue Beech's golden boy or born from a wealthy family. Where as Chloe Fieldgain was born on the wrong side of the tracks, or more appropriately from the trailer park. There is definitely a story there between them, but I won't spoil what that is because, WHOA! You need to experience everything yourself.
When Kyle finds a way to eventually break through Chloe's defences, which is both hilarious and steamy, she is also plagued with serious doubts. Mostly considering they have a past, but also with another huge cloud hanging over her. Unsure if they could actually be anything beyond "just neighbors with benefits" be prepared for lots of emotional ups and downs.
"This is it. No going back. I can no longer say I resisted the temptation of Kyle Lane. I'm throwing down the white flag with no apologies."-Chloe
Just Neighbors is dirty, funny, and packs a whopping emotional punch at the end. A true moment of – Wow, I was not expecting that! – made this an exceptional read and had me searching for everything Charity Ferrell has ever written (to date I've read her Blue Beech series, but I still have others on my TBR pile to squeeze in).  This book is so dirty and sweet and a good book to start with if you haven't read Charity before. I'm someone who doesn't mind reading out of order, but you do you if you're a stickler for reading in order and read the entire series today!
Find her on Facebook, Goodreads, Twitter, and  www.charityferrell.com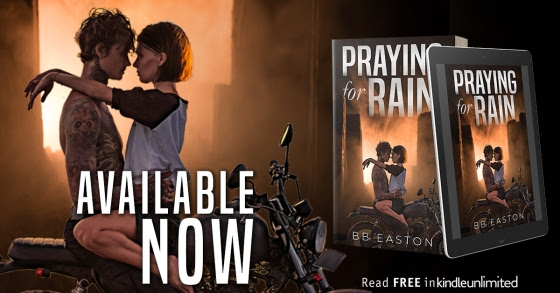 Praying for Rain is a hard book to fit into one specific trope box. First off, it is an amazing book about two lost people; one clinging to hope and the other just barely hanging on until the end of the world arrives. Rain and Wes become unlikely allies in an apocalyptic world and find themselves working together to outrun the inevitable doomsday.
"None of this matters, and we're all going to die."-Rain
Thought provoking. Sexy and raw, on the edge of your seat page turning suspenseful and heartbreaking. The world B.B. Easton has created is like nothing you've ever read and you'll be salivating for more when you finish. Luckily there is more as Praying for Rain is the first in a trilogy and B.B. is set to release the rest in 2020.
"Supplies. Shelter. Self-defense." -Wes
B.B. Easton takes us on a journey into a world filled with chaos, disorder and lawlessness where everyone is waiting for the final days before the apocalypse happens on April 23rd. The day when the four horsemen of the apocalypse appear and wipe out humanity. No one knows exactly how it will happen, just the date, and you've either learned to embrace the fate of the world, or perhaps fight against it.
If you haven't learned to fight for survival, then you are on the brink of starvation, and so many people have given up hope. Rain is walking the brink of hopelessness. Wes has a different plan. Time is running out, the days are getting closer to April 23rd. Wes is doing everything to stick to his plan. Supplies, shelter, self-defense. Rain isn't a distraction he needs, but he can't seem to leave her either. Rain's only wants to help, but in the end when the apocalypse happens and her only reason for living has become Wes. Will it be enough?
Can they survive what's coming? Can they survive together?
B.B.'s writing is rich and detailed and I am so excited to continue the series and see where B.B. takes us next. If you enjoy dystopian worlds, apocalyptic, loss of humanity reads then I highly recommend this book.
The most tedious and strenuous job I have…picking the sexiest cover.  How will I ever survive? I'm not sure, but I'd do it all again, just for you.
So thank you once again to all the models that rock these photo shoots. You are the MVP's who light up our dreams.
Tame and not so tame…hottest cover of 2019.
Soooooo, you all know and love the standards on social media…yes, it's there to protect us, but seriously, this photo isn't showing anything more than the sexy V leading to the glorious garden hose of happiness. The rest is just pure imagination, which of course offended someone because the cover model had to have pants on when the book was released. Such a shame. A sexy, sexy, waste of a glorious V shame. So enjoy the view as much as you'd like because I know I do everytime I scroll past it.
Boyfriend Bargain not only had a hot cover, it was also a really good book. If you love new adult sports romance, I highly suggest this book. Zach or "Z" is a very relatable character. While he is a hockey god on campus, he suffers from anxiety. He hides his condition from everyone just trying to live his best life, but that's not always the best thing to do.
"If people discover I have real issues with anxiety, I'm done in the NHL, all my dreams destroyed."-Z
Sugar Ryan doesn't have time to coddle someone like Z. She studies law which has rules and contracts and what she doesn't want is complications or emotions tied into a boyfriend situation. However, she needs his help getting into law school so when Z agrees to a contract when he actually says yes to her fake boyfriend situation, Sugar couldn't be happier.
"This crazy, harebrained idea will never work. Plus, I don't have time for over-the-top, testosterone-driven superstar athletes. Until now, that is."-Sugar 
These two don't intend to fall in love, or even really care for each other, but life happens. Boyfriend Bargain is full of so much emotion and heart it is an excellent read.
~~~~~~~~~~~~~~~~~~~~~~~~~~~~~~~~~~~~~~~~~~~~~~~~~~
Thank you to everyone who follows or reads my blog. I look forward to a new year, a new decade and many new adventures. Happy New Year!
*Every category is totally and completely picked by Kay Daniels Romance and all opinions are my own*